"Men and women are equal!"
"Let us read, let us study!"
These are some of the slogans shouted by over 200 girls as part of a rally—organized by AJWS grantee Nishtha—in West Bengal, India, to push for women's safety and equality in late February of this year. The girls, mostly high-school and college aged, proudly marched and shouted through the narrow streets of their rural village—a place where women are often expected to be silent. Now, amid the COVID-19 pandemic, the streets are deserted, but these girls are still raising their voices.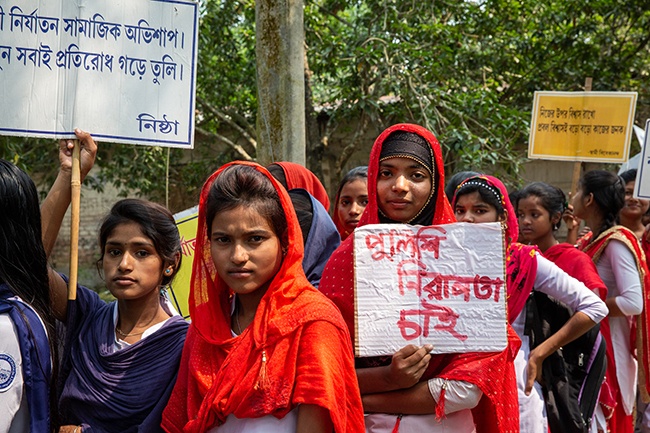 Just a few short weeks after the girls' rally, India imposed one of the world's largest and strictest lockdowns to slow the spread of COVID-19. Since March 25, 1.3 billion people have not been allowed to leave their homes. Since the lockdown began in West Bengal, "domestic violence has tripled" in some communities, says Manami Das, Senior Program Manager Nishtha. Women and girls have been confined with their abusers 24/7. Financial strains on already poor families lead to men violently taking out their frustrations on their wives and daughters.
The protests continue—from home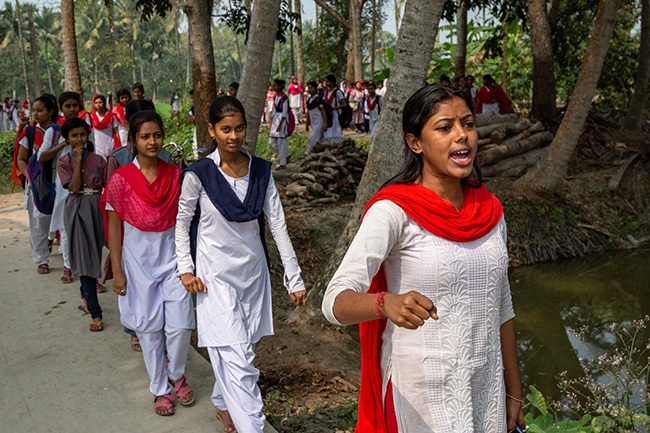 To combat the alarming increase in gender-based violence, the girls involved with Nishtha are raising their voices—literally. They have started a "Shout Out Loud" initiative, organizing hundreds of girls involved with Nishtha to scream if they experience or witness violence. When other girls hear the commotion, they join in the chorus of protests, spreading a rising blast of noise throughout their neighborhood to bring attention to the attacker until he stops or the police come.
The girls also report cases of violence to the police so they can take legal action against the perpetrators. Girls report that the campaign has been successful, with young women feeling a sense of solidarity despite the physical isolation of lockdown.
Nishtha facilitates one of the largest organizations focused on women and girls in the India, with over 13,000 members from some of the most remote villages in the country. Nishtha helps girls organize "collectives"—safe and inclusive spaces in various neighborhoods, led by girls themselves, where they can meet and form friendships, learn about their human rights, and provide each other with support for the challenges they face. The lockdown has prevented girls from holding their usual meetings and gathering to help each other, but they are finding new ways to offer support remotely. Girls like Sonia and Papri, who are leaders of local collectives, have cell phones and are rapidly learning new remote organizing methods, like how to convene WhatsApp group calls to support each other and ensure that girls facing violence or difficulties at home do not feel alone.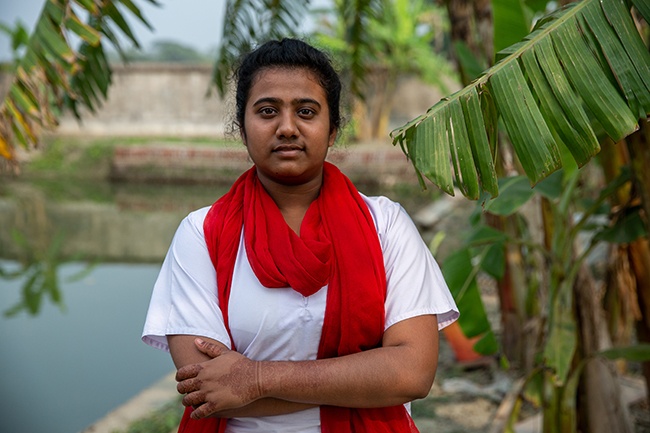 Although the Nishtha community has been separated physically by social distancing, Manami says "Nishtha volunteers, staff members and leaders have connected even more deeply than before the lockdown."
"Girls are seen as a burden in the family."
Domestic violence and gender inequality were prevalent in West Bengal long before the pandemic. Manami Das, Senior Program Manager at Nishtha, described the situation: "In Bengali families, the father is treated like a god, women like slaves…Girls are seen as a burden in the family." Women in this region have also, historically, not had the freedom to do much outside of the home. Mina Das, daughter of Nishtha's founder and the current director, explained that Nishtha was created as a space where women could gather and share in their struggles, outside of the control of their husbands and fathers.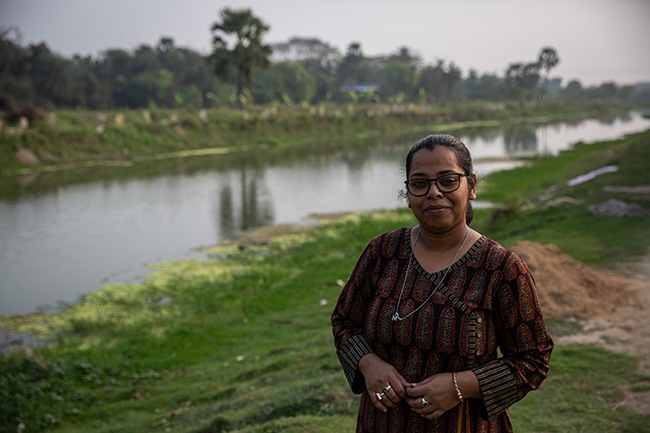 This is an area where early and child marriage is prevalent, and Nishtha has been fighting since its founding in 1983 to keep girls in school and help them avoid unwanted marriages. Girls are often seen by their parents as another mouth to feed and as free labor to potential in-laws. As the financial pressure of the pandemic has hit this community, Nishtha is seeing many teenage girls who were successful in school before COVID (often with encouragement, financial assistance and learning support from Nishtha) dropping out of school because their families can no longer afford the fees or they lack access to the technology they need to learn remotely.
The COVID-19 pandemic and lockdown will have long-lasting impacts, as girls who would otherwise have stayed in school and delayed marriage are being forced to drop out and marry young. And in this region that is already vulnerable to trafficking, girls need to be more vigilant about their own safety than ever.
Rising to new challenges
Nishtha, which translates to "determination" in Bengali, is working nonstop to address these worsening conditions for girls as well as new needs sparked by the pandemic. It sends social workers to assess the needs in villages where the most vulnerable women live. Some of the poorest families are running out of food and do not have the required identification cards to get government rations. Nishtha staff help them procure the proper or alternative documents and advocate to local authorities so that families can get what they need. The staff are also distributing food and menstrual products directly to women and girls most in need.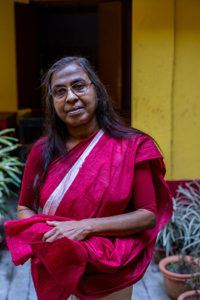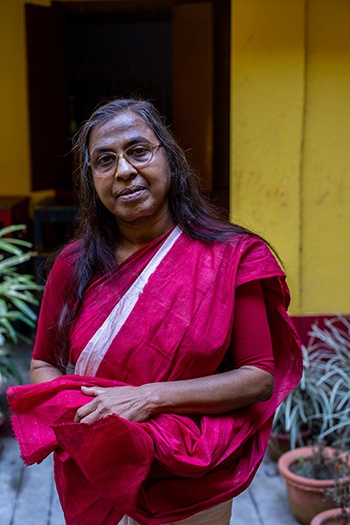 Just as Nishtha was adapting to the new reality brought by the COVID-19 pandemic, Cyclone Amphan—the strongest storm ever recorded in the Bay of Bengal—made landfall in the communities that Nishtha serves. People who were already struggling to make ends meet now faced homelessness, lack of electricity, downed telephone and internet connection and no clean water. Nishtha's office and facilities were severely damaged. The staff at Nishtha, however, did not miss a beat in the face of this added layer of devastation. Just after the storm passed, they began to distribute food, safe drinking water, feminine hygiene kits and financial assistance for those needing to rebuild their homes, in addition to the assistance they had been providing throughout the pandemic. An AJWS emergency grant will support them to rebuild their facilities and continue to help their community recover from this devastation.
Despite the seemingly impossible barriers of isolation, poverty, a record-breaking cyclone and a global pandemic, Nishtha is executing its mission with resilience and tenacity, in what is sure to be a long and challenging pandemic. Mina Das, Nishtha's Director, explains it best: "When something happens to one of us, the group can save us. Nishtha gives women emotional strength."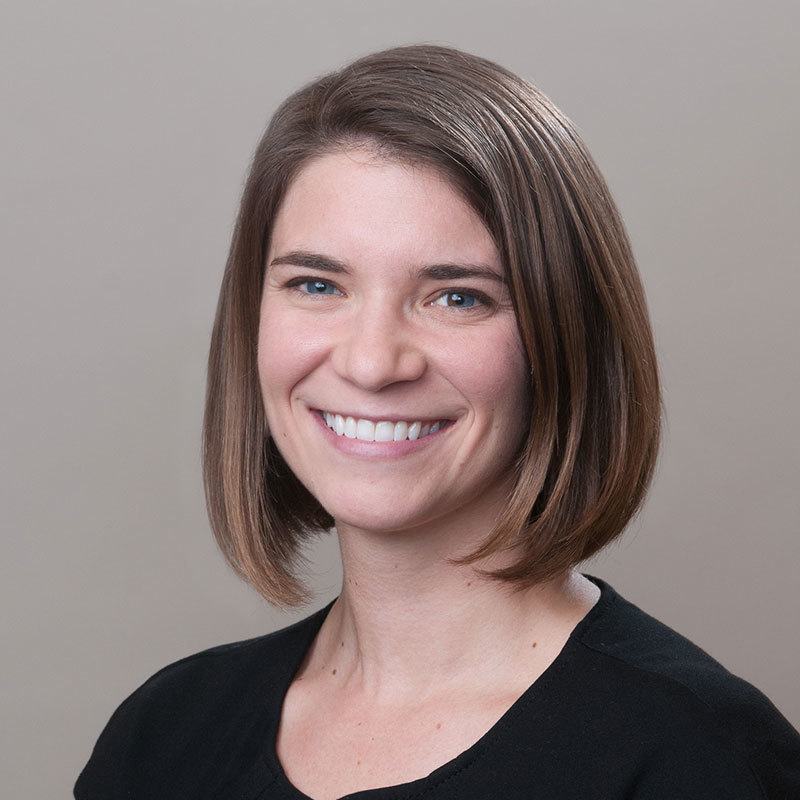 Jenn Lavelle is the Associate Director of Online Engagement at AJWS.