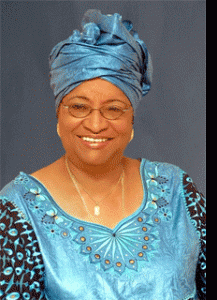 President of Liberia and 2011 Nobel Peace Prize winner, Ellen Johnson Sirleaf, was just re-elected for a second term of office. But her victory, described as "a boon for women," was fraught with controversy.
Sirleaf's opponent, Winston Tubman of the Congress for Democratic Change (CDC) party, boycotted the election run-off, citing alleged irregularities and systematic fraud in the first round of voting in October. At a demonstration the day before the November 8th runoff, police opened fire on CDC supporters, killing at least two Liberians in an incident that Tubman says was an assassination attempt.Though the violence and perceived corruption surrounding the election is troublesome, Sirleaf's supporters are happy with the win.
"It is a big boost for us as women and it keeps us … on the world stage," said Yvette Chesson-Wureh, establishment coordinator at the Angie Brooks International Centre, a non-governmental organization promoting women's empowerment."
We recently wrote about the status of women in Liberia. Sirleaf—who became Africa's first female head of state when she was elected as president in 2006—is credited with increasing the number of women in government. She has also combated Liberia's high rate of gender-based violence by establishing special courts for sexual violence cases.
But some Liberian women feel that the benefits of these changes are limited to women in the Liberian upper class. Grace Zoe Davis, a 43-year-old woman who sells construction materials in Monrovia, said in this AllAfrica.com article, "I see no difference in what she has done for the lives of women in the last six years. (Sirleaf) has only (helped) people in her class and not the ordinary woman in Liberia."
For a more in-depth analysis of the Liberian election, tune in to the Daily Show tonight when Leymah Gbowee, winner of the 2011 Nobel Peace Prize and director of AJWS's partner, Women Peace and Security Network-Africa (WIPSEN), will have an on-air interview with Jon Stewart! Then join AJWS on our Study Tour to Liberia in June 2012.