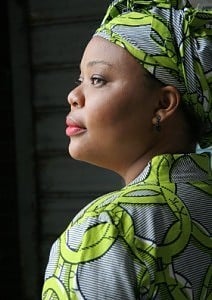 AJWS is thrilled at the news that Leymah Roberta Gbowee, director of our partner Women Peace and Security Network-Africa (WIPSEN), won the Nobel Peace Prize this morning!
Leymah was awarded the Nobel Prize in recognition of the pivotal role that she played in bringing an end to Liberia's devastating 14-year civil war. Together with activists from the Liberian women's movement, Leymah mobilized women from all walks of life and across religious and ethnic lines to demand peace. She also fought to ensure that women be able to participate in politics and rebuilding the country. Leymah, who joined AJWS at our 25th anniversary gala last fall, shares the award with none other than Liberian President Ellen Johnson Sirleaf, as well as Tawakul Karman, a pro-democracy campaigner in Yemen.
As a young woman growing up in Liberia, Leymah saw how war had robbed her of opportunities for personal development and thwarted her pursuit of higher education. She saw young lives destroyed and her own children suffering from hunger during the civil war in the 1990s. After witnessing what seemed like endless violence and conflict, she came to realize that she—along with the women of Liberia—had a critical role to play in confronting the toll of war and bringing peace to her country.
Leymah's win is a victory for women's rights activists across Africa and around the world. It is a tremendous recognition of women's leadership and abilities to contribute to peace-building through civic and political participation and the realization of their rights. As Leymah rightly puts it, "Women's peace activism is not only about advocating for a cessation of physical violence during conflict and wars but also for the deconstruction of structural forms of violence that exist in everyday society."
The prize couldn't come at a more opportune time, with Liberia preparing to hold its second ever democratic elections on Tuesday, October 11th. Stay tuned for an upcoming blog post about the ongoing need to increase Liberian women's political participation as Liberia takes this next step forward in creating a democratic and peaceful state.