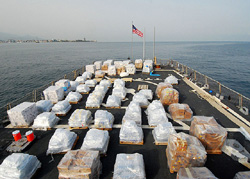 When I think about international food aid, what comes to mind are the challenges of distribution—who's getting what and how much of it? But then there are the hidden costs of shipping. A recent IRIN article discusses the results of a Cornell University study that revealed the alarming fact that U.S. taxpayers spend about $140 million every year on non-emergency food aid in Africa. They spend roughly the same amount to ship food aid to global destinations on U.S. vessels.
$280 million. That's a LOT of money. And the truth? It only benefits a very small constituency at the expense of taxpayers and recipients.
The article explains:
"Little has been written about the costs and effects of a policy called the Agricultural Cargo Preference (ACP), which affects the shipping sector of the "iron triangle" [comprised of agribusiness, the shipping sector and some NGOs] and USAID, the world's largest food aid programme. The ACP requires that 75 percent of US food aid be shipped on privately owned, US registered vessels, even if they do not offer the most competitive rates. Some of these costs are reimbursed by the Department of Transportation' Maritime Administration, but ultimately the US taxpayer foots the entire bill."
It's clear that there's an urgent need to reform our food aid policy. Most donors have moved toward cash transfers or vouchers so that recipients can buy food, instead of providing food as aid, but the study points out that most countries have agribusiness and some NGO interests to contend with while reforming their food aid policy.
Just think: The $280 million we spend could be a game-changer to help many more people grow and distribute their own food sustainably. We could help local farmers invigorate their livelihoods and stabilize local markets.
To this end, we've been by calling on friends and supporters to encourage their senators to pass the Haiti Empowerment, Assistance and Rebuilding (HEAR) Act—a piece of proposed legislation that clearly articulates U.S. aid priorities for the $2 billion committed in U.S. aid to Haiti, sets up benchmarks for success and requires local procurement. It also includes a transparent reporting and accountability system so both U.S. taxpayers and Haitians can see where money is going and whether or not it is achieving the desired impact.
There is absolutely no reason why we should be wasting our tax dollars on the cost of food shipments that are benefiting so few. We need to start getting money into the hands of those who have the knowledge, skills and creativity to make sure food is produced equitably and is distributed fairly.