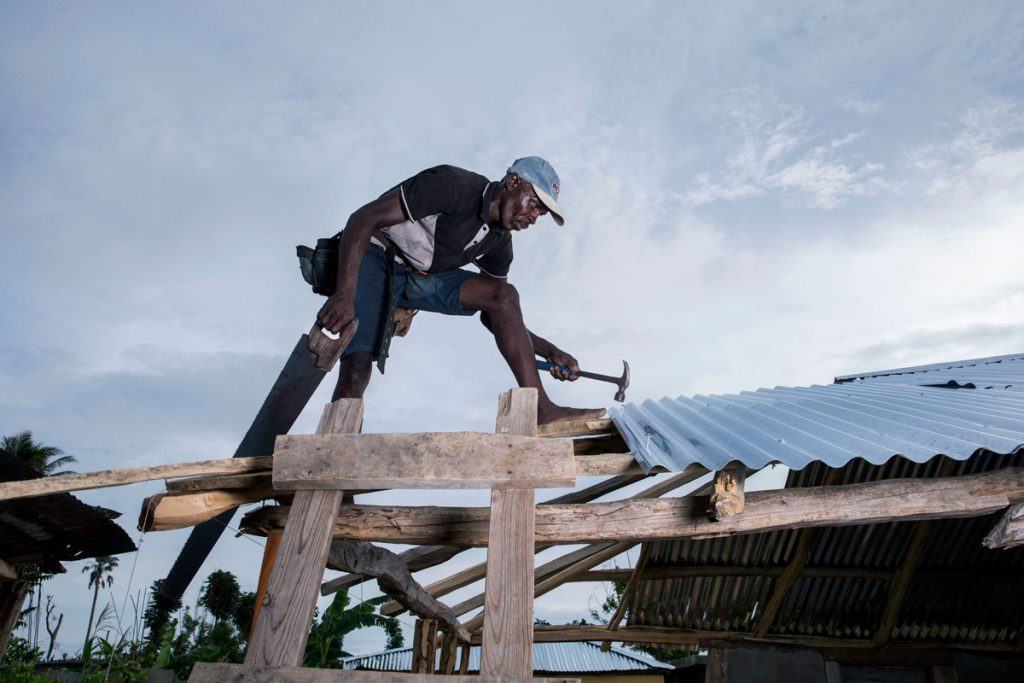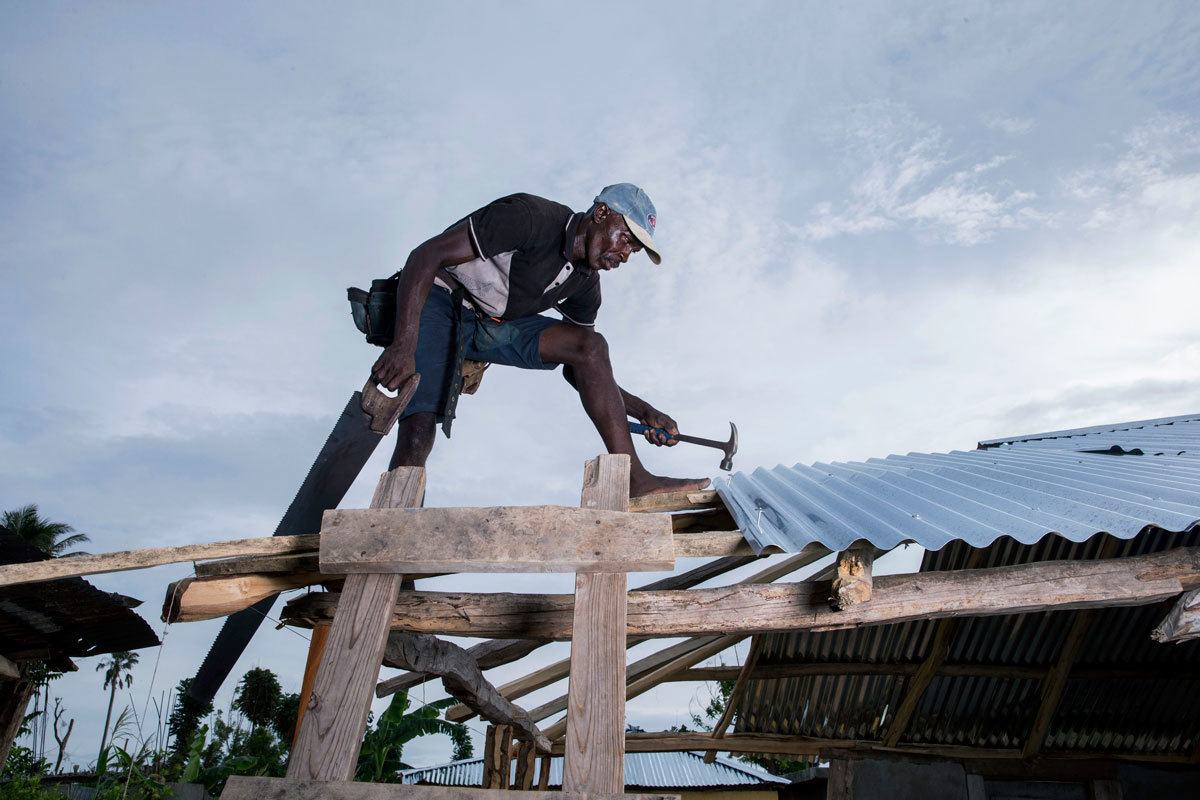 Coastal homes reduced to rubble, acres of land covered with toppled trees, walls bearing high water marks left behind by floods—these are common sights across Haiti's devastated southern peninsula in the wake of Hurricane Matthew, which struck six months ago today.
The storm made landfall during the early hours of October 4, 2016. Powerful winds and raised seawaters battered coastal towns and wrecked countless homes. The hurricane killed hundreds of people, injured thousands and decimated agriculture and livestock—making Hurricane Matthew one of the fiercest storms on record to ravage Haiti.
Although the scale of destruction has been colossal and the road to recovery is long, the rhythm of daily life is slowly returning to these shores and in other parts of the country. Today, a constellation of grassroots organizations supported by the American Jewish World Service is hard at work helping Haitians with reconstruction, repair and recovery. Here is a look at their remarkable efforts:
Bureau des Droits Humains en Haiti (The Office of Human Rights in Haiti)
It can take several hours to traverse the bumpy beds of rocks and knee-deep rivers and streams on the way to the village of Gwo Woch, nestled in the foothills of mountains in Haiti's southern peninsula. Hurricane Matthew all but gutted this remote community, but little aid arrived in its aftermath.
AJWS grantee Bureau des Droits Humains en Haiti (BDHH), which has long been helping Haitians gain a better understanding of the law and empowering those who had been wronged to seek justice, quickly responded to provide relief. In recent months, BDHH has rebuilt at least 81 homes, distributed food and offered hygiene kits to prevent the spread of illness.
Nico Aseau was one of the recipients of this aid. All his life, the 39-year-old had lived in the home his parents built, until "the winds took it all away," he said. In addition to losing his home and belongings, the hurricane ravaged Nico's farm where he grew beans, corn, yams and plantains. After Matthew, he said the family has had to walk two to three hours to buy rice in the closest town, Port-a-Piment. His children couldn't attend school because it was destroyed and continue to live in fear after the hurricane.
Despite these losses, Nico and his family are gradually resuming their lives, one step at a time. Thanks to BDHH, the family has a new home. "It was a deliverance for us," Nico's wife Perlage St. Rose said. "We take comfort in knowing we weren't forgotten during our hardship."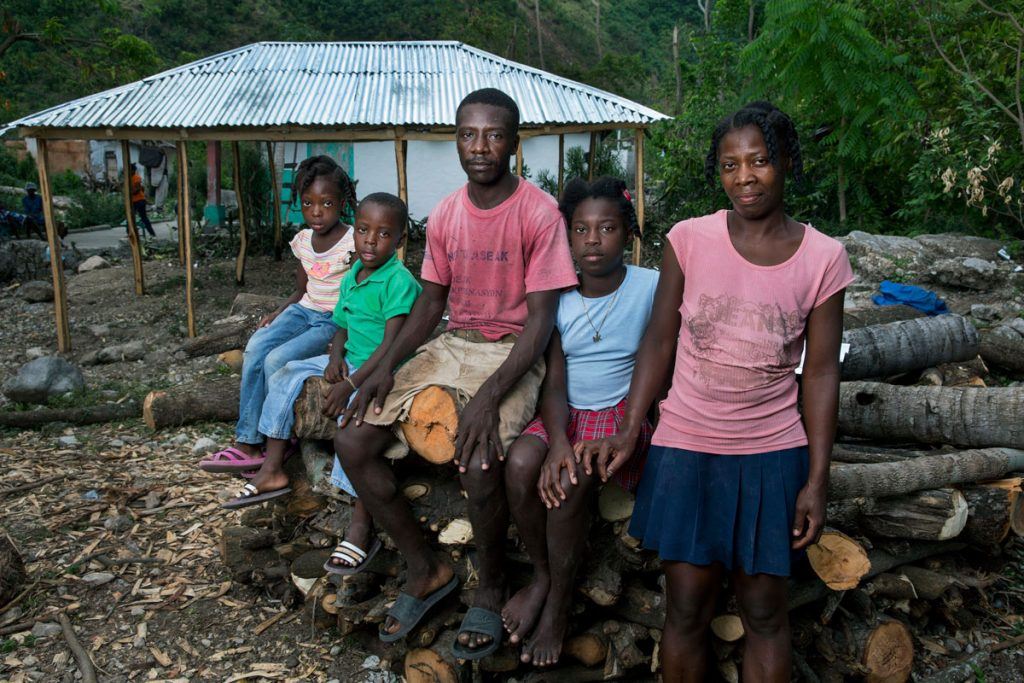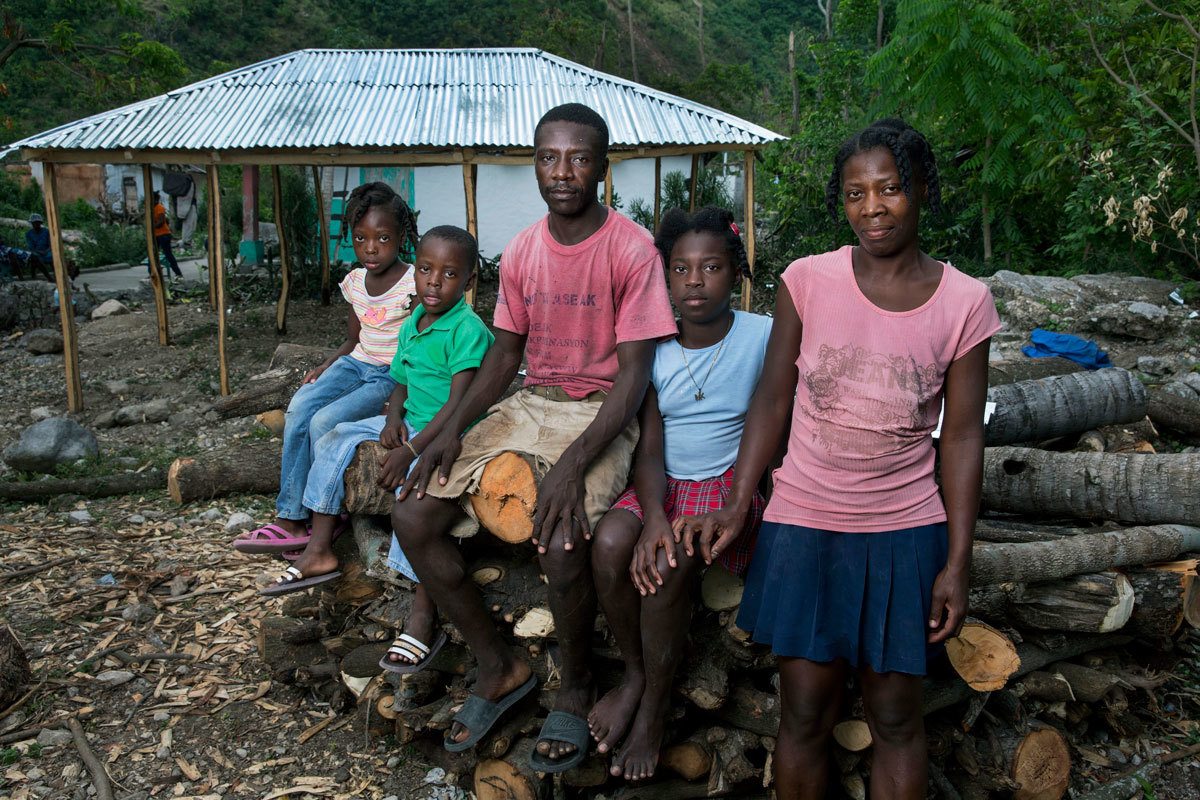 Tèt Kole Ti Peyizan Ayisyen (Heads Together, Haitian Small Farmers)
Hurricane Matthew dealt a heavy blow to rural communities across Haiti's southern peninsula, where much of the population depends on farming for sustenance and livelihood. River water and heavy rain swamped much of the south, destroying an estimated 80 percent of the harvest. Haitian and international agricultural officials believe it could take over a decade for this region to economically recover from the hurricane.
Amid these hardships, AJWS grantee Tèt Kole Ti Peyizan Ayisyen—one of Haiti's oldest and largest organizations of peasant farmers that works to eradicate hunger and food insecurity—is ensuring the rural poor are not forgotten. With AJWS's support, Tèt Kole is providing small loans and seeds to farmers so they can replant crops.
In a small village in Marfranc commune on the outskirts of Jérémie, Tèt Kole member Marie Yolene Dossous has been pooling together funds to provide small loans to those in dire need. "Even though we have very little now, we will restart and rebuild little by little," she explained. Some recipients have used these small loans to produce peanut butter or grow rice that they can then sell in markets. "Tèt Kole has been our helping hand," Marie Yolene said.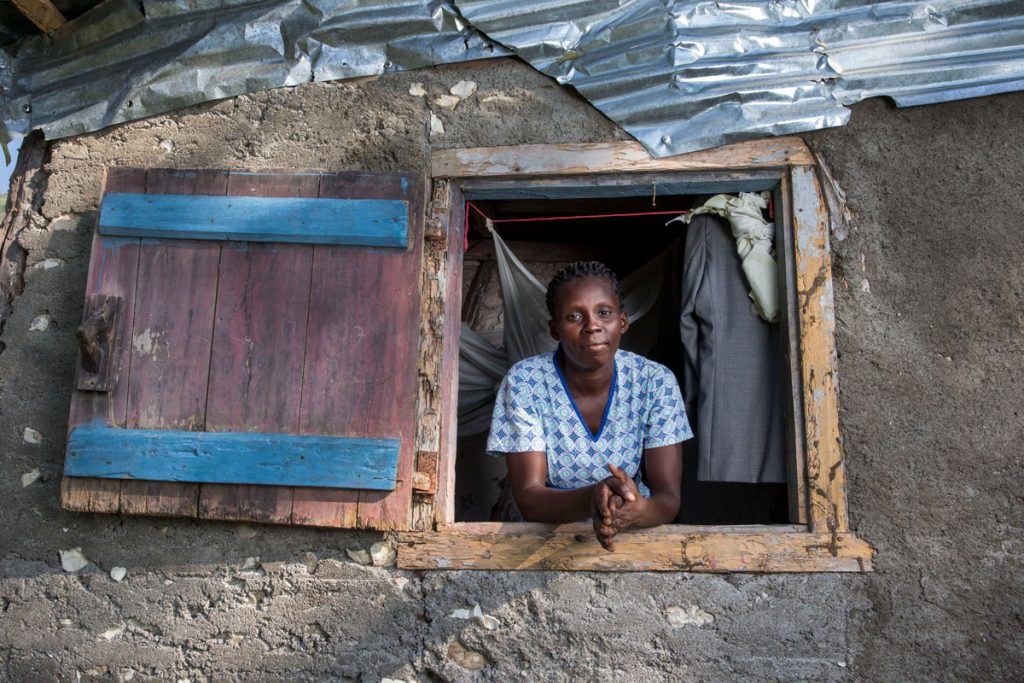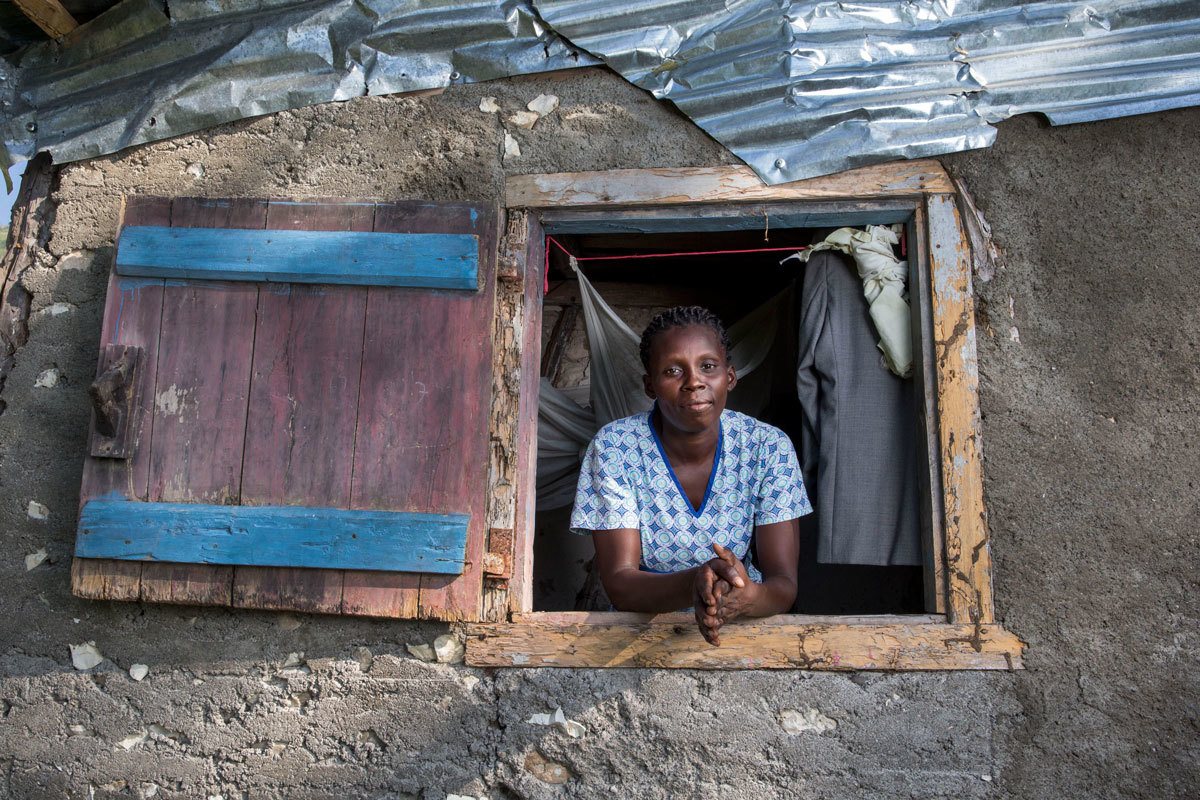 Groupe de Recherche et d'Appui au Milieu Rural (Research Group and Support to the Rural Environment)
On the outskirts of Jérémie, another AJWS grantee—Groupe de Recherche et d'Appui au Milieu Rural (GRAMIR)—which works with local farmers' cooperatives to encourage sustainable agriculture practices—is emerging from the heavy damage it experienced during the hurricane.
GRAMIR's office was submerged under almost six feet of floodwater. Calixte Yourlings, a staff member, walked us through the damage: rotted office furniture, ruined computers, and filing cabinets full of documents.
Despite their own difficulties, GRAMIR sprang into action to help hard-hit communities across Grand'Anse, Nippes and the Southern Department. "There wasn't a house that wasn't affected," another staff member Alcindre Leopold explained. Following the hurricane, GRAMIR distributed seeds and saplings so families could replant what was lost.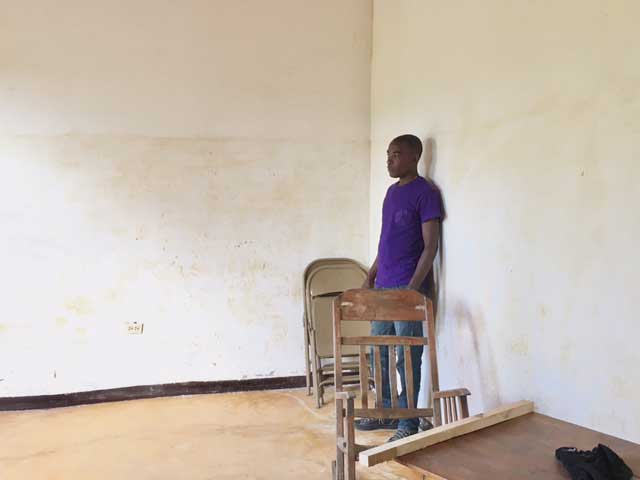 Groupe d'Appui aux Rapatries et aux Refugies (Support Group for Rapatries and Refugees)
To make ends meet, poor Haitians living in villages along Haiti's border often resort to seeking work as undocumented migrants in neighboring Dominican Republic. This vulnerable and impoverished border community was still reeling from the devastation inflicted by the 2010 earthquake when Hurricane Matthew struck, flooding homes and causing a resurgence of cholera, a disease originally introduced in the country by United Nations peacekeepers after the earthquake.
An AJWS grantee working with this community, Groupe d'Appui aux Rapatries et aux Refugies (GARR), has worked around the clock to help survivors recover. GARR helped rebuild damaged homes, provided water-cleaning kits to families, and raised awareness in communities to halt the spread of water-borne diseases.
GARR stepped in to help women like Marjorie Joseph and her 2-year old daughter with repairs to their home, which had been damaged by heavy rain and winds. "GARR has been the only one to ask about us or help us," Marjorie said.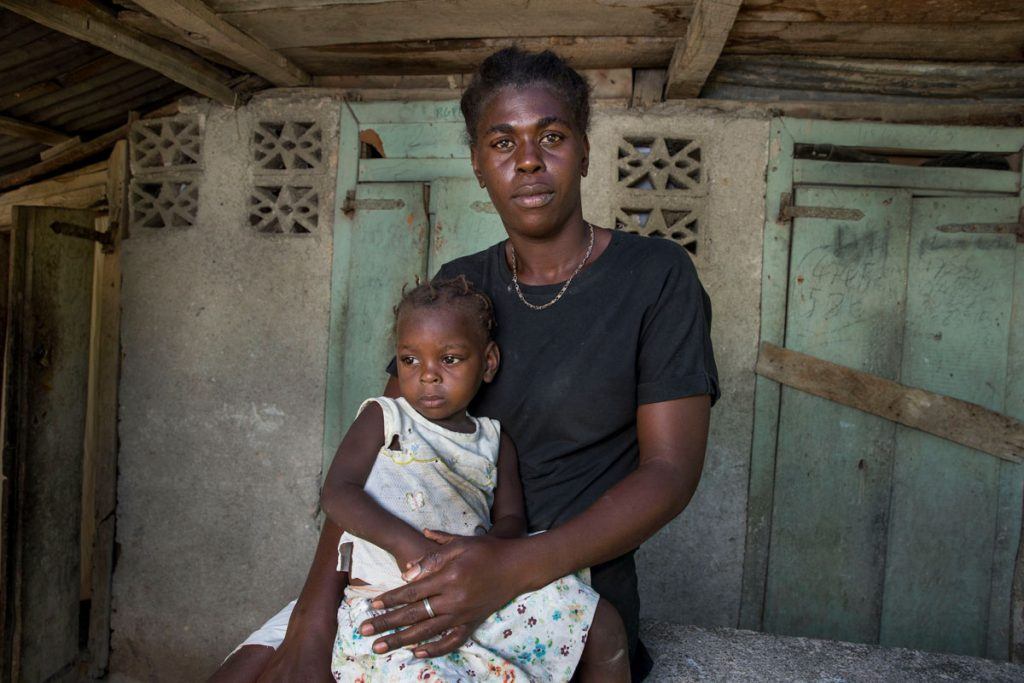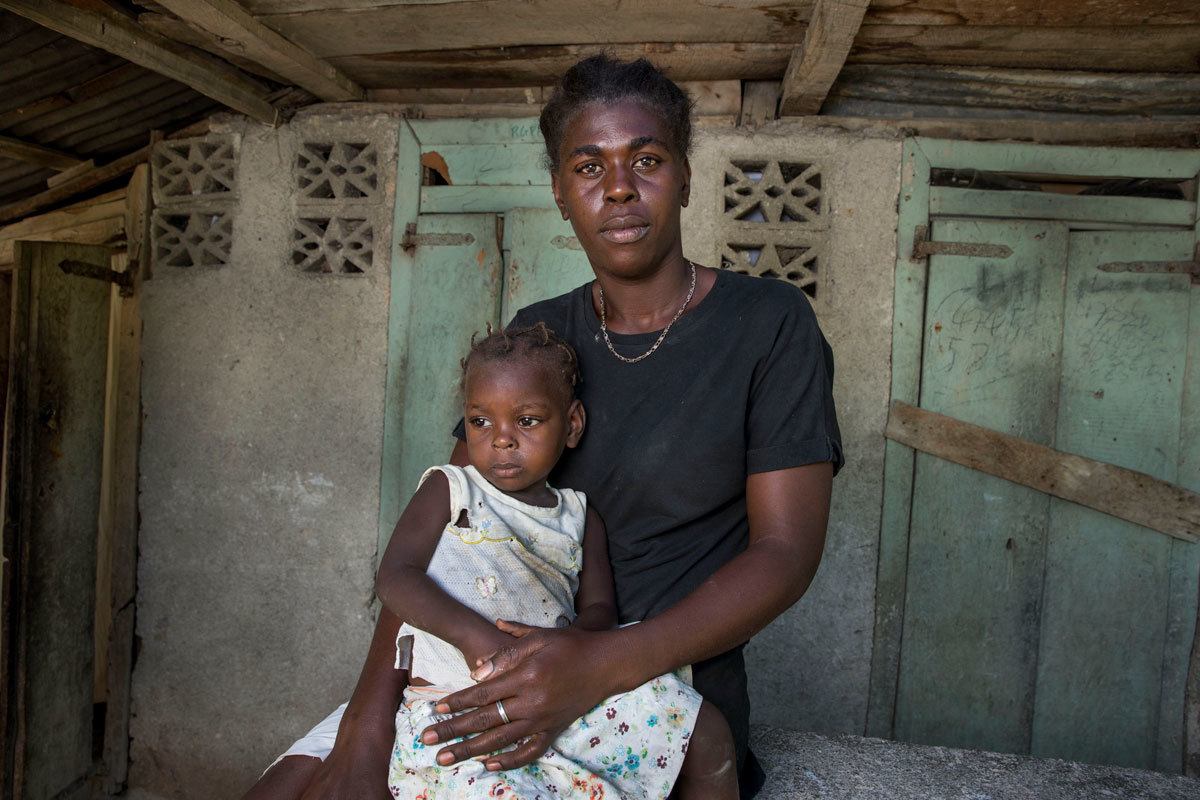 AJWS continues to support Haitians on their road to recovery. Local communities—that better understand their personal challenges and needs—are best suited to serve as architects in Haiti's recovery efforts as they rebuild from the bottom up.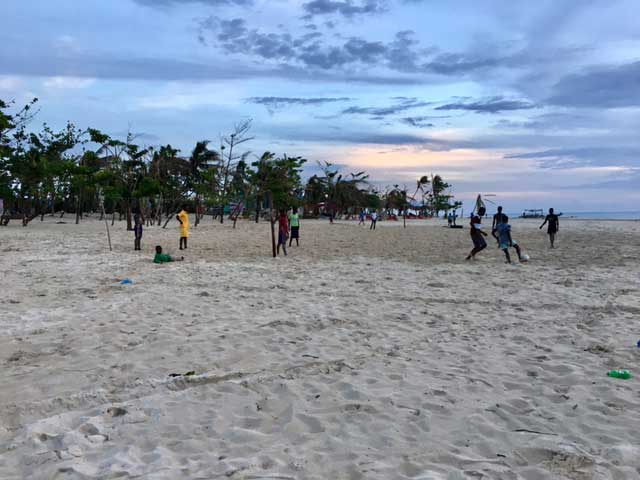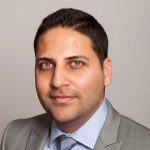 Sumit Galhotra is the Communications Officer for Human Rights and Story Development at AJWS.