It has been two years today since the devastating earthquake in Haiti claimed the lives of approximately 300,000 people. This anniversary should inspire us to take a moment of reflection to remember those whose lives were lost and, even more importantly, to renew our commitment to supporting the Haitian people's goal for a new Haiti. But there has been an unfortunate disconnect between the international community's response to this disaster and what Haitian civil society leaders on the ground want for their country.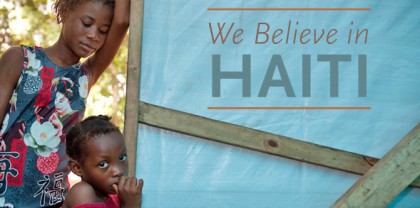 As I think back to the many conversations that I had with AJWS's partners in Haiti right after the earthquake, they weren't just talking about putting back together the pieces that were broken, as many who came to Haiti to help have tried to do. They wanted to use this disaster as the impetus to construct a new Haiti—a Haiti where those who were rendered voiceless for so long would finally be listened to and included in the determination of their country's future.
These grassroots leaders have acted on these ideas, working hard since the earthquake to shape their country from the ground up. They're working for greater inclusion of small-scale farmers in the government's agricultural agenda, pushing for housing rights for the more than 500,000 people that remain in camps, fighting for more just laws that protect against sexual and gender-based violence and so much more.
But despite their progress, these local voices haven't been consulted sufficiently over these past two years, as international organizations have descended on Haiti to implement their own agendas. In a recent article published by the Nation of Change it is estimated that only 1 percent of international aid went to the Haitian government and extremely little went to Haitian companies or non-governmental organizations. Instead, the funds have gone to support international organizations, plans presented by international governments and foreign private companies—all implementing their own agendas for how Haiti should develop.
In many cases, these projects have failed to succeed because they didn't take into account the local context. For example, this past summer the "Building Back Better Communities" housing expo, held in Port-au-Prince, featured 59 housing units presented as possible alternatives for the more than 1 million people displaced by the earthquake. Unfortunately, the homes aren't affordable for the majority of the Haitian people, who live on less than $2 per day. Furthermore, the proposal would have done little to help improve the Haitian economy, as only seven of the 59 units were made by Haitian companies and it is estimated that less than 10 percent used local building materials.
In other cases, misguided foreign-aid efforts have actually been detrimental to existing Haitian-led projects. I saw this in action in May of this last year, when I visited Bayonnais, a community where the strongest phone signal can be found under a mango tree. I listened to members of a Haitian grassroots organization, Mouvman Peyizan Bayonnais (MPB), share their excitement as they described how their community programs had led to a revival of local production of products such as congo beans and cassava, which were increasing local food security and providing people with income. Yet their hard work was being threatened by cash-for-work programs supported by the U.S. government that had been developed without consulting them and with no consideration for the particular needs of this farming community.
The programs promised to build a better road for the community and employ local people, but they did not take into account that the work period was scheduled for the middle of the planting season. Many community members would come from far away to build the road and then had no time to work their lands when they returned home.
The project also directly competed with existing community development efforts. The building continued on Saturdays, when community members had been dedicating time to MPB activities that had been successfully supporting the development of the community. These actions, while well-intentioned, undermined the role that the community-based organization was already playing in the pursuit of development and social change. If the international organization had consulted with the community first, its project could have made a much more positive impact on the long-term economic recovery, rather than interrupting it to provide short-term cash.
Civil society groups like MPB have plans and solutions to the challenges that their country faces. Our responsibility is to support that process—not undermine it—as neighbors and citizens of this world.
I have personally seen the positive impact of projects that are led, managed and implemented by Haitians. Over the past two years AJWS has partnered with 40 organizations in an attempt to do just that. International organizations may have the personnel and funds to implement large-scale projects very quickly, but if they don't have the buy-in of Haitians, they will only achieve short-term success.
AJWS has been working to make local Haitian voices heard by international funders, especially the U.S. government. In March 2011, about 15 Haitian civil society leaders, including AJWS grantees, came to Washington to meet with policy makers. Though the U.S. has been providing earthquake relief for more than a year, this was the first and only large group of Haitian groups that had lobbied in Washington since the Earthquake. Until then, their voices had been absent from decision-making processes that so intimately impacted their futures.
The international community can help Haitians fill many gaps, but we must let Haitians lead the way. Haitians will identify their needs and we can listen and provide support each step of the way—as a responsible international community. There is a vibrant civil society in Haiti that's been hanging on tight for the last two years, waiting for all of us to just listen. There is a long road ahead before a new Haiti, but we must continue to support the efforts of our partners as they pave the way there.
To learn more about AJWS's work in Haiti, visit www.ajws.org/HaitiRelief and check out our report on the 2nd anniversary of the earthquake.