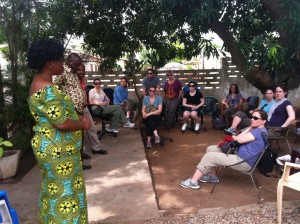 Traveling to the developing world for the first time has aroused a mix of emotions for me. As I sit in my light-flickering room in the rather hot, however charming lodge in Winneba, a small town of Ghana, I'm beginning to decompress my feelings about what I've seen and experienced: I visited a slum and saw an arresting level of poverty. I watched a condom demonstration from a former sex worker. I met the US Ambassador to Ghana.
What has this all meant for me as an AJWS staff member, a young professional and, most importantly, a human being?
Processing poverty and the reasons it exists isn't something I can do in a few days let alone a week. And while I don't yet know what these new experiences will ultimately mean for me, I am in awe of AJWS's grassroots partners, the challenges they've overcome, and the passion they bring to their everyday work.