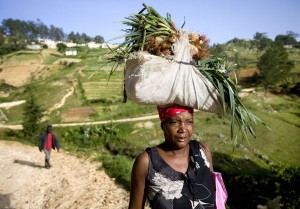 "If $1 billion of the $11 billion pledged by international donors was put toward agriculture, the world could watch Haiti not only feed itself, but export billions," said Haiti's presidential candidate Charles Henri Baker in the Montreal Gazette's feature "Can Farming Save Haiti?."
A future in which Haiti is not only self-sufficient, but is exporting goods sounds great, right?
Tell Congress to help make it happen.
The Haiti Supplemental Bill, now in committee in the House, will provide $2.8 billion in aid to Haiti. This money can more effectively help Haitians help themselves if more of it is used to support the community-based agriculture that Baker endorses. AJWS is calling on Congress to include language in the bill mandating support for local Haitian agriculture and to pass it right away.
As the Gazette article discusses, over the years, wealthy donor nations have pushed for open-market policies that undermined Haiti's rich agricultural base. Now, so much of Haiti's post-earthquake rebirth depends upon sustainable local food production and international support for the planting and procurement of Haiti's agriculture. This is particularly crucial in rural regions of Haiti where food deliveries along bumpy roads that resemble dried-out riverbeds are nearly impossible. Agricultural renewal in Haiti will help promote dignified, self-sufficient livelihoods for millions of Haitian farmers. It will also serve as a foundation for social and economic growth. And as the Gazette article points out, there are many Haitian leaders poised to make agricultural reform a sustainable priority. We need to do our part to make this a reality.