There's a haunting hush hanging all over New Delhi right now, broken only by the sirens of ambulances rushing by. A new variant that's 15-times more contagious is tearing through our densely populated city, and indeed across the country. Hospitals are filled to capacity with sick people — leaving so many others to fend for themselves, searching for medicine, oxygen and beds.
When AJWS asked our global community to stand with India to halt the impact of this deadly surge, they answered without hesitation. The funds raised in this emergency campaign are directly helping families and communities in need.
The country reached a grim milestone this week, with over 275,000 people dead. Over 250,000 new cases are still being reported every day — just a fraction of the actual count, as unknown thousands never get tested or make it to the hospital.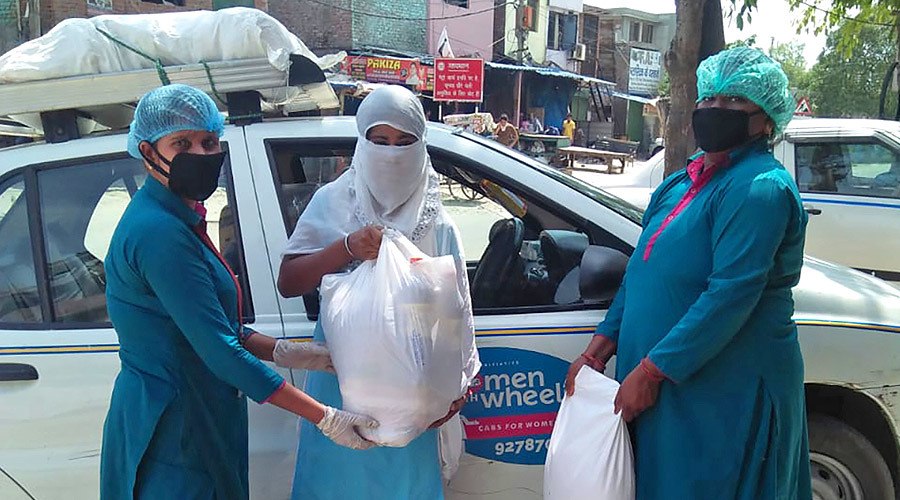 AJWS supports over 80 local organizations here, which have been tirelessly protecting their communities from COVID-19 since the earliest days of the pandemic. But these courageous activists — all reeling from the impact of the virus on their families, friends and colleagues — are reporting that the immediate needs of their communities are mounting rapidly. What's more, Cyclone Tauktae hammered India's west coast this week, tearing through communities in the states of Gujarat and Maharashtra where our grantee organizations work.
Our partner organizations have told us what they need to keep their communities safe and alive, and AJWS's support is going straight to these organizations on the ground so they can provide:
Cash transfers to families who are homebound due to lockdowns or disabilities, so they can purchase delivery of medical supplies and food.
Rural community kitchens whose staff are delivering food to families suffering from COVID-19.
Virtual consultations with doctors and access to prescribed medicines for women and their children suffering COVID-19 symptoms.
Awareness campaigns to encourage rural communities to vaccinate and debunk dangerous myths that the vaccine is making people sick.
Mental health support and safe houses for survivors of domestic violence, which has skyrocketed during COVID-19 lockdowns.
The activists AJWS supports are working day and night to reach as many people as they can. At times, their mission may seem endless. But they are a beacon of hope in these bleak times. They make us grateful and proud of the work that we do. And thanks to the AJWS community, they have the support they need to persist. As our partners in India live through this disaster escalating all around them, we hope it is a comfort to know that the AJWS community stands with them.