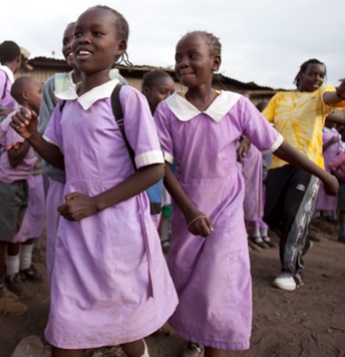 Last week on October 11th, the United Nations commemorated the very first International Day of the Girl. My colleagues and I were still reeling from the tragic shooting of Malala Yousafzai, the 14-year-old Pakistani activist who was unjustly targeted for going to school and speaking up for her right to get an education. But we were grateful for the outpouring of support for the UN's decision to dedicate a day to advancing the status of girls worldwide.
AJWS is committed to promoting girls' rights, preventing gender-based violence and improving access to education and healthcare for girls in the developing world.
A few sobering facts:
Two-thirds of the world's children who receive less than four years of education are girls. Girls represent nearly 60% of the children not in school.
Child marriage is a threat to the fundamental human rights of girls, and to the health of communities.
Ten million girls every year become child brides.
One in seven girls in the developing world marries before she turns 15. These young girls are forced into motherhood before their bodies are ready, and too many die giving birth as a result.
Every year, some 14 million adolescent girls give birth. They are two to five times as likely to die owing to pregnancy-related complications than women in their twenties, and their babies are less likely to survive.
To learn more about AJWS's work to support the rights of girls in the developing world, check out our policy brief Empowering Girls to End Violence: On-the-Ground Lessons from India for U.S. Development Policy and our recent publication Girls at the Center: Lessons from Kenya on Investing in a World Free of AIDS. Also, be sure to watch our new video featuring some of the girls' rights activists supported by AJWS: