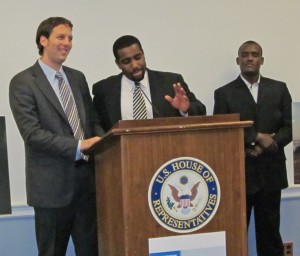 More than four years after a devastating earthquake hit Haiti, the country is still struggling with deep-rooted inequality, rampant poverty and a troubled government. Congress recently passed a new bill to reform how the U.S. tracks the progress of its development projects in Haiti—with the hope of making those projects more effective.
"Our government laudably committed a significant amount of aid to help Haiti rebuild, but a lack of transparency made it difficult to understand how U.S. government funds were being used," said Ruth Messinger, president of American Jewish World Service. "The bill will help establish clear and transparent goals for future U.S. involvement in Haiti and will ensure that U.S. dollars are spent in responsible ways that create long-term, positive change."
Ian Schwab, associate director of advocacy at AJWS, played a key role in the passage of the bill, called the Assessing Progress in Haiti Act of 2014. He chairs the Haiti Advocacy Working Group, which includes representatives from a variety of international development and faith-based organizations, such as ActionAid USA, Unitarian Universalist Service Committee, Mennonite Central Committee and Church World Service.
"Without the sustained attention of the nonprofit community, we would not have this bill today," Schwab said.
AJWS's Haitian partners have also visited D.C. to share their concerns and ask for more information about U.S. development projects in their country. In particular, human rights groups have expressed concerns over the roughly 150,000 Haitians who are still living in earthquake displacement camps. Meanwhile, U.S. Agency for International Development (USAID) reconstruction efforts in Haiti have moved slowly; USAID has built just one-fourth of the houses that the group planned in Haiti—at twice the estimated cost.
According to Schwab, the new bill addresses two issues critical to improving the efficacy of U.S. funding in Haiti: strategy and accountability. He said knowing how U.S. projects aim to address challenges in Haiti is important for assessing their progress, and publically tracking the impact of those projects is key to identifying which strategies work best.
"Decisions that impact so many people's lives in Haiti are often made by people in Washington, D.C.," Schwab said. "When no detailed information is made available about those decisions, it's difficult for the Haitian people—or the U.S. taxpayer or the U.S. Congress—to understand what's really going on.
"This bi-partisan law will force the State Department to issue detailed reports not just about what it has done, but on specific goals for the future."
In the six months after the earthquake, AJWS raised $6.4 million from more than 28,000 donors to support recovery in Haiti. To date, AJWS has granted $6.1 million of those funds to 66 organizations working to help Haiti recover from the earthquake and address ongoing human rights challenges. These funds have supported projects that empower marginalized communities and help local nonprofit organizations advance human rights. For more information, read AJWS's Haiti country profile.
Elizabeth Daube is a communications officer at American Jewish World Service.