"There is no future without a past." Crafted by American novelist and poet Siri Hustvedt, these words both haunt and inspire me. We are living with a president in the White House who emboldens racists and anti-Semites and cozies up to dictators who violate human rights worldwide, dashing the hopes and aspirations of millions of people. At this most unusual historical moment, it feels as if our country and our world are inescapably and profoundly broken.
Of course, history does not move forward smoothly or always make steady progress. Dire setbacks are part of history, too. Today, just days after the assault on Charlottesville, the rancid odor of hate hangs in the air and lingers around our president.
But for Jews, actively engaging history has been central to our way of life. As Rabbi Abraham Joshua Heschel taught, "Judaism is a religion of time," one that is focused on "the sanctification of time." And we sanctify time by creating the kind of history by which we wish to be remembered.
For that reason, we must redouble our fight to shape our present and our future. We must do this as Jews, as Americans and as global citizens by standing up today not only for our own dignity but for the dignity of all human beings — especially those whose rights are at risk because of their race, religion, ethnicity or identity. We must act on our deep belief that all people have inherent dignity, no matter who they are or where they live.
The appalling words that emanate from the president have destructive consequences far beyond our own borders. Make no mistake, it is not only the "alt-right" that is emboldened. Repressive leaders and governments also take these messages to heart, and act with even more impunity because the United States has given up its moral leadership on the global stage.
At American Jewish World Service (AJWS) we work every day with American Jews committed to global justice and with activists from diverse backgrounds in 19 countries in Africa, Asia, Latin America and the Caribbean. Together, we are building the world we wish to live in — a world anchored in democratic values and equality, and enriched by diversity.
"Words make worlds," is a teaching from David Cooperrider, a management thought leader committed to global change. In fact, we will not let words make a degraded world. We will not let hate speech define this time. Instead, we will sanctify time through action by supporting:
Young people in Congo fighting for fair elections free from violence and corruption
Advocates in Burma fighting to stop the torture and killing of Rohingya Muslims
LGBT activists in Uganda fighting for the fundamental right to be recognized as human beings
Because we remember our own history and we hear the words of hate hurled at us today, we will continue to sanctify time. We will continue to act as Jews on behalf of the most vulnerable all over the world. When the next generation asks us what we did at this troubling moment, we must be able to answer with a full heart, and say that we did all we could both for ourselves, and especially, for others.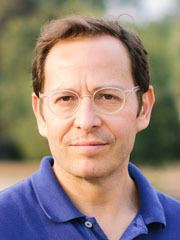 Robert Bank is President and CEO of American Jewish World Service, the leading Jewish organization working to promote human rights in the developing world. Robert has spent his career championing human rights as an attorney, activist and leader. He joined AJWS as Executive Vice President in 2009 and previously served in New York's municipal government and in the leadership of GMHC—one of the world's leading organizations combating HIV/AIDS. Robert has been honored with GMHC's Lifetime Achievement Award and the Partners in Justice Award from AVODAH: The Jewish Service Corps. He is also an adviser to The Conversation: Jewish in America and is a board member of Peripheral Vision International. Robert's passion for human rights was shaped growing up in a Jewish family in South Africa, which was engaged in the struggle to end apartheid.