This Human Rights Day, I gathered with activists from around the world at "#Quorum: Global LGBT Voices." By the end of the day—through the power of social media—we reached more than 25 million people with their stories.
These inspiring speakers reminded me why AJWS and our partners are making this issue a priority: because all people deserve basic human rights, and we can't be silent when societies treat LGBT people as less thanhuman. As our Kenyan grantee, Essy, said today, "We're not looking for 'gay rights.' We're looking for human rights for gay people."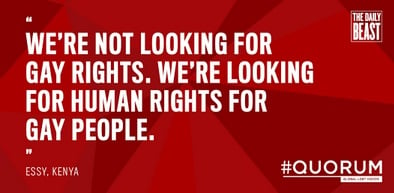 Speakers came from near (New York City) and far (Egypt, India and Nigeria, to name just a few). The Daily Beast brought them together for this unique event, which aimed to amplify global LGBT voices and bring them to new audiences. Why? Mike Dyer of the Daily Beast put it best this morning: "As a media company, we strongly believe that this is the great civil rights challenge of our time."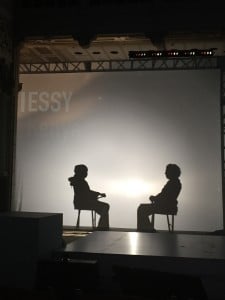 AJWS was thrilled to contribute to this event alongside many other supporters of global LGBT rights, and I was proud to see our grantees take the stage to share their stories.  Essy, in particular, reminded me of the risks that many of these advocates take every day, working in societies that often lash out violently against people who are openly LGBT. Essy shared her story from behind a screen, to help protect her privacy and her ability to continue her work in Mombasa, Kenya. She's forged incredible partnerships with both Muslim and Christian religious leaders there, working with them to overcome widespread ignorance and hatred against LGBT people.
As I watched Essy speak in shadowy silhouette, I reflected on the many rights and privileges I take for granted—as an openly gay man and as a human being. I feel grateful to be in a position where I can speak up and advocate for others. And after everything I heard today, I'm inspired to do whatever I can to support human rights. I keep thinking of what Essy said today: "We were not born to do everything, but we were all born to do something."
What will you do?
Here are some ideas:
Use #Quorum to join the conversation about global LGBT rights. Find #Quorum stories and learn more here: http://quorum.thedailybeast.com
Support AJWS's efforts to advocate for U.S. policies and laws that will advance LGBT rights around the world. Sign our latest petition calling on President Obama to appoint a Special Envoy on Global LGBT Rights.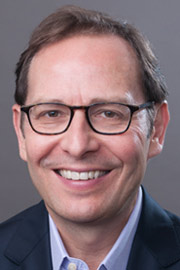 Robert Bank is the executive vice president
of American Jewish World Service.