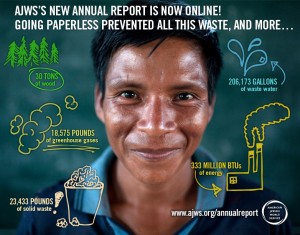 We have something exciting to share with you! Our brand new annual report is fresh off the proverbial press.
Not only is it totally green—no paper, period!—it's chock full of info about all of the issues that you come to this blog to read about… recovery in Haiti, promoting LGBTI rights, reversing global hunger and building a Jewish movement to pursue human rights. It also has a great recap of the human rights victories we're most proud of having helped achieve in 2011.
On top of all that, the annual report contains an insider's peek into AJWS's new strategic plan. You might have noticed that things are a little bit different this year, but the report will tell you exactly where AJWS is going. We think that AJWS 2.0 will be able to make our donors' dollars go further and our advocacy and activism get louder and smarter—all equaling greater gains in the movement to achieve human rights worldwide.
All that aside, I'm also writing to ask you for your help. We're pretty proud that we've done away with printing heavy books to celebrate our accomplishments (and you'll be excited to know that this report saved 30 tons of trees, 206,173 gallons of water and kept 23,433 lbs of solid waste out of landfills!) but all this saving comes with a new challenge—making sure that it gets seen.
This is where you come in: As someone who cares about this organization and its future, would you do us a favor and post the report on your social networks? Whether you're cheering for the environmental savings (yeah!) or for the amazing strides that AJWS's grantees made this year in pursuing global justice (double yeah!) please give us a shout out on Facebook by posting this link. It's a small but important way that you can support AJWS.
Happy reading!