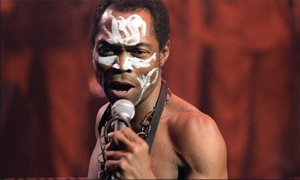 If you're looking for a powerful, thought-provoking film to see this summer, look no further than Finding Fela—a new documentary that opened this past Friday in New York City at IFC and has bookings throughout the country opening on various dates this month.
Fela Kuti was the brilliant Nigerian performer who became a human rights activist challenging the corrupt government in his country. He used his music as a mobilizing force, galvanizing others to join him in the battle for social and political change. During his lifetime, he became a beacon for oppressed peoples in Nigeria, in Africa and elsewhere in the world. He also became a target for his government, which was eager to silence him and stop his organizing.
Fela, the man, died in 1997 but Fela!, the musical, brought his story and his music to a large swath of the public, many of whom did not know this phenomenal artist beforehand. The Broadway production was a hit and was nominated for 11 Tony awards and won three. The show went on a successful world tour, seen by more than one million people. Eventually it went "home" to Nigeria and was performed there.
But Finding Fela, the movie, is something more. It tells the unbelievable story of getting the rights to the work and bringing it to Broadway, a process which took Stephen and Ruth Hendel many years, and it showcases many of the numbers from the production. More importantly, it successfully transmits Fela Anikulapo Kuti's energy and spirit through archival footage, videos, and interviews with Fela and those who knew him well.  In the film, you see Fela's commitment to support the fight for human rights and political change in Nigeria through Afrobeat, the music genre he pioneered. You understand his commitment to his profession and music, and his intense determination to make positive change for people who have no voice.
The movie is a tribute to this artist and his art and to this artist and his politics. From a style into a movement, from a single person influenced by his activist mother to millions in Africa and around the world, and finally to the viewer in the theater, it is clear that Fela's astonishing story can only be shared in this way. Part documentary, part concert, part Broadway musical, and part archival narrative, and it still seems like you only see a small piece of Fela's personality and life as a musician and activist.
It also shows what some art and some artists can do to reach a public and engage them, to motivate people to stand up and speak out, to demand change. It is a critical piece of political commentary in and about Africa, a continent still struggling on behalf of its people.
Fela spreads his thirst for political change in Nigeria through his music and manages to accomplish the impossible. This film is a must-see.
Ruth Messinger is president of American Jewish World Service. 
Joshua Fried is the executive assistant to the president of American Jewish World Service.