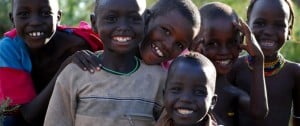 I am writing from a tiny plane in the sky on our way back from Turkana (northwestern Kenya) to Nairobi. It is hard at times to get your head around the fact that both places are in the same country. When traveling to Nairobi or elsewhere in Kenya, Turkana people will often say "I'm going to Kenya," as if it's a completely different state. It gives you a sense of the government's neglect of the region and the marginalization of its people as a result.
AJWS's partner, Friends of Lake Turkana (FoLT), came together in 2008 to fight the Gibe III dam in Ethiopia. If the dam is built, it will dry up the Omo River in southwestern Ethiopia that feeds Kenya's Lake Turkana. It will destroy the ecosystem and the very existence of the lake, upon which 300,000 indigenous people depend for their fishing and herding livelihoods. A shoddy environmental impact assessment that didn't comply with international standards was done on the Ethiopia side, and there was no consultation with lake communities in Kenya.
Fishermen told us that the lake is their only survival, and killing the lake is tantamount to killing them. Women told us that the income they earn from selling fish is their only means of feeding their families and sending their children to school. The region is so arid that the only viable livelihoods are fishing and livestock, both of which depend on the lake. Turkana is already heavily affected by armed conflict between tribes, mainly due to conflicts over resources, and a further reduction of the water supply would surely make matters worse. People know that the fight for their lake is the fight for their lives.
Working closely with our collegial partner International Rivers, FoLT has led national and international campaigns that have resulted in the African Development Bank and the European Investment Bank pulling funding from the project. FoLT will continue to advocate the Kenyan government to refuse to buy power from Ethiopia, and it is now shifting gears to target the Chinese, who have just come in with their open arms and huge pockets to finance the dam.
What's remarkable about FoLT is how effectively it works at the international, national and grassroots levels. FoLT's long-term vision is to build a resource rights community movement in Kenya, and it has begun in Turkana. We attended two community meetings where we heard chiefs, councilors and local people all speak passionately, with ownership over the struggle. A recent public demonstration galvanized support for the campaign, and people are now asking questions and demanding answers from government officials.
Sarah Gunther is AJWS's Associate Director of Grants for Africa.