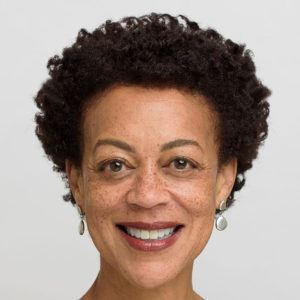 Katherine Haynes
Board Member
Katherine Haynes is a senior program officer at the California Health Care Foundation, where she leads work on systems change to advance Black equity. She uses research, strategy and organizational design, futurism, and design thinking to create scalable, sustainable programs. Prior to joining CHCF, Katherine worked as program director at Institute for the Future in Palo Alto, CA, where she led systematic thinking about health and health care futures among executives of public and private organizations. Previously, Katherine built Kaiser Permanente Northern California's diversity department — with the mission to advance language access and health equity — and served as its executive director. In this role, she directed a program that deployed design research and systems thinking to improve language access for limited English speakers and funded disparities reduction projects in the delivery system. Katherine also served as the founding director of the technology and information exchange core at the UCSF Center for AIDS Prevention Studies, where she fostered collaboration among epidemiologists, psychologists, substance use researchers, population specialists, and community-based AIDS service organizations, pioneering a community collaborative research program that was replicated by the Centers for Disease Control and Prevention and the state of California.
Katherine received a bachelor's degree in humanities from the University of California, Berkeley, and a master's degree in business administration from the Anderson School of Management at the University of California, Los Angeles.
Katherine served as the board president of Beth El – a robust Reform community in Berkeley, and of Jewish Family & Community Services East Bay. Other board experience includes Project Open Hand, the Centers for Disease Control and Prevention, Tides Foundation, and Coro Foundation for Civic Leadership. She has been a supporter of AJWS since 2003.