Using the law to help Uganda's most marginalized people seek justice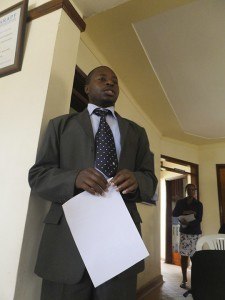 In Uganda, being poor means facing limits—not just limited income, but also limited ability to seek justice when basic human rights have been violated. Some of the most marginalized groups facing both poverty and discrimination in Uganda include women and girls living with HIV and AIDS, sex workers, LGBT people and women whose right to own or farm the land they live on has been unfairly violated. While Uganda has a constitution that should help protect its citizens, many marginalized people do not know their rights or understand how the legal system works. Even fewer have the means to access the legal services they need, as there are virtually no low-cost legal aid services for the poor.
A group of recent Ugandan law school graduates founded Human Rights Awareness and Promotion Forum (HRAPF) in 2008, with the goal of helping the most marginalized and low-income people in the country access the legal support they need to realize their rights. Since then, the group has handled more than 1,500 cases and trained more than 50 community paralegals. In addition to providing legal services directly to people in need, HRAPF runs awareness camps and produces radio shows to educate people about their legal rights. It also works to influence laws and policies that affect the poor.
Although the political climate in Uganda is often hostile to HRAPF's work, its staff persevere in taking on high-profile cases that could influence national law. For example, HRAPF filed and litigated the 2009 case of Jjuuko Adrian v. Attorney General, which seeks to overturn a legal provision that prevents Uganda's Equal Opportunities Commission from investigating discrimination against people that society deems "immoral or socially unacceptable." Since the majority of Ugandans consider many marginalized groups—including sex workers and LGBT people—to be immoral or socially unacceptable, this provision has devastating and widespread consequences. The case is still awaiting a ruling as of this publication, but if it is successful and the provision is deemed unconstitutional, it will be a major victory for human rights throughout the country.
In 2014, HRAPF attorneys joined with other LGBT rights groups to challenge the constitutionality of the latest version of Uganda's Anti-Homosexuality Law. Together, they successfully overturned the law.