Shabbat is the Jewish day of rest. The seventh day of the week, Shabbat commemorates the six days of the biblical creation of the world. At AJWS, Shabbat marks a pause in our efforts to build a better world. It recharges our energy and our souls, and allows us to begin this vital work again each week with renewed vigor.
Hosting a Shabbat dinner is a great way to bring together your family, friends and community members over good food and great conversation. This guide provides a Shabbat dinner checklist and a suggested program for your Shabbat dinner that will help you introduce AJWS to your guests and begin a dialogue about social justice and human rights within the context of Jewish thought and practice. We have provided a variety of discussion points to enhance the table rituals and promote discussion during the meal. Choose one or two that you think will best resonate with your guests.
Shabbat Dinner Checklist
Pre-Event
Invite Guests: Let your friends and family know that you are hosting a Shabbat Dinner to discuss AJWS and human rights issues in the developing world. Download a sample invitation and tip guide.
Food: Will the dinner be seated? Buffet? Take-out? Home-cooked?
Event
Have a sign-in sheet: It's a great way to ensure that you and your guests stay in touch!
Materials: Print and display any AJWS handouts, one-pagers and brochures.
Display pledge cards: It's a subtle way to allow interested individuals to donate. (Request pledge cards by email.)
Take photos and video: In accordance with your observance, document your great work in action and share the experience on social media. And tag AJWS!
Be an active participant!
Post-Event
Follow up: Send out thank-you letters or emails to those who helped make the dinner a success, including all who attended!
Keep it going: Send the attendance list to AJWS—we can add your network to our email list and keep them updated on future events and opportunities to learn more about AJWS!
Let us know you did it! Get in touch with AJWS to celebrate your success and share your lessons learned—and don't hesitate to share your event-related questions, comments and ideas!
How to Host A Shabbat Dinner: A Facilitator's Guide
Introduction
Shabbat dinner rituals
Discussion topics during and after dinner
*AJWS is committed to a pluralistic Jewish community that honors the broadest spectrum of interpretation of our traditions. This Shabbat guide is not comprehensive, but rather is a taste of Shabbat, designed to inspire reflection and to spark imagination.
Introduction
At the start of the meal, provide an overview of AJWS to your guests. Highlight the fact that AJWS is the first and only Jewish organization dedicated solely to ending poverty and promoting human rights in the developing world. Need to do some more research? There are a variety of AJWS materials to choose from!
*AJWS materials: Throughout this guide, we provide links to AJWS videos and readings about our work. Note that if you do not use electricity on Shabbat, make sure you print out the text versions ahead of time to distribute to your guests.
Jewish Framing
Read "What Inspires Us" on the AJWS website. AJWS's core value is that people confronting poverty and oppression deserve access to the resources they need to pursue their own visions of justice.
How might the aspects of Jewish values and teaching, history, human rights, and social movements have inspired and shaped that core value?
Which of those four elements most inspires you to engage with the injustice and inequality in the world?
Shabbat Dinner Rituals
Many of the traditional Shabbat blessings can be read within the context of human rights activism:
Candle Lighting



Blessed are you, Adonai our God, Sovereign of the universe, who has sanctified us by commanding us to light Shabbat candles.
"Sanctity of life means that humans are partners, not sovereigns, that life is a trust, not a property. To exist as a human is to assist the Divine."
–Abraham Joshua Heschel, The Insecurity of Freedom
Kiddush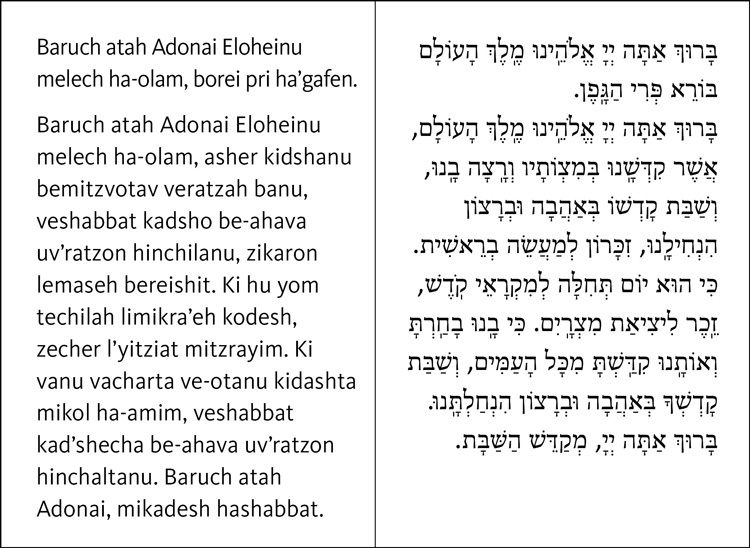 Blessed are You, the Lord our God, King of the Universe, Creator of the fruit of the vine. (Amen)
Blessed are You, Lord our God, King of the Universe, who sanctified us with His commandments and hoped for us, and with love and intent invested us with His sacred Sabbath as a memorial to the deed of Creation. It is the first among the holy festivals, commemorating the exodus from Egypt. For You chose us and sanctified us—out of all nations—and, with love and intent, You invested us with Your Holy Sabbath.
Blessed are You, Adonai, Sanctifier of the Sabbath. (Amen)
"To set apart one day a week for freedom, a day on which we would not use the instruments which have been so easily turned into weapons of destruction, a day for being with ourselves, a day of detachment from the vulgar, of independence of external obligations, a day on which we stop worshipping the idols of technical civilization, a day on which we use no money…is there any institution that holds out a greater hope for [humanity's] progress than the Sabbath?"
—Abraham Joshua Heschel, The Sabbath
Hamotzi



Blessed are You, Adonai our God, Sovereign of the Universe, who brings forth bread from the earth.
Although the majority of Burma's people live off the land, few Burmese laws give them any control over it. In most cases, the government owns the land, and it's not difficult for government officials and agencies to take it back—or let a major corporation step in to develop it for their own profit. In many areas of Burma, people continue to be displaced by development projects such as the digging of mines or building of dams. KESAN, an organization funded by AJWS, improves the ability of rural people to grow their own food and have some say over how local land should be used.
As we express gratitude for the abundance of food we enjoy at our [Shabbat] table, let us remember those who live with hunger today. May the taste of this bread and the sustenance we derive from it remind us to act on their behalf and work toward a world in which everyone has access to food.
Discussion Topics
We have provided two options for discussion topics to be introduced throughout the evening.
Option 1: Shabbat program around this week's Torah portion
Our website has a collection of commentaries that discuss the social justice teachings in the Torah portion of the week.
Highlight an excerpt from the week's commentary and have a participant read it out loud. Ask your guests a few reflection questions that relate to social justice and the work of AJWS.
Example: Parashat Chukkat
Commentary excerpt
In Parashat Chukkat, the Israelites revolt against Moses, again demanding access to water and food. "Why did you make us leave Egypt to bring us to this wretched place with no grain or figs or vines or pomegranates? There is not even water to drink!" As Dahlia Rockowitz explains in her 2013 Dvar Tzedek, "Overwhelmed by the lack of access to basic resources like water, the Israelites go so far as to question being taken out of Egypt." It's not that they are hungry: The Israelites have plenty of divinely-furnished manna to eat. So, their anxiety is not about a lack of sustenance. Rather, it points to another core human need: to have control over the food and other resources we need for our survival and way of life.
Discussion Questions
Why do you think it wasn't enough to be given food? Why might someone prefer control over their own food supply rather than simply being given food?
Think about your own life. Can you think of one moment where it was important for you to make your own decision about something? Why was that so important?
Many food aid programs provide food directly to those in need (and it's often food grown in the United States). What might be the benefit of programs like that? What might be the drawbacks? What other methods of aid could provide support to people struggling with hunger?
Option 2: Analysis of Action
Learn about Julienne Lusenge, an individual who witnessed injustice and courageously decided to act.

Ask participants to share their reflections about the following questions:

What do you believe are the impacts of rape being used as a "strategy of war" in countries like the DRC?
How important do you believe it is to include women's voices in peacemaking efforts?
What would compel you to act on behalf of oppressed individuals to support the realization of their rights?

MBBCDS is an Indian organization in West Bengal, funded by AJWS, that fights to end early and child marriage by encouraging girls to continue their education and build confidence in a different future. Watch a video about Sonali's journey here. There is a brief section of text below the video that can be printed out. Also see Sunita's story for an opportunity to learn about how AJWS grantee Azad Foundation is changing the lives of women and girls in India.

Discussion Questions

What surprised you most about Sonali's or Sunita's stories?
In what ways do these women experience the improvements in their lives?
What are the different ways MBBCDS or Azad Foundation are working to end child marriage? Why is this such a complex issue?
Closing: Shabbat Reflection and Gratitude
Closing your discussion with a poem is a meaningful way to engage your guests in one final reflection, allowing them the opportunity to imagine peace coming to all people who suffer from poverty, oppression and war around the world.
FOR THE EXPANDING GRANDEUR of Creation,
worlds known and unknown,
galaxies beyond galaxies,
filling us with awe and challenging our imaginations,
Modim anachnu lach.
For this fragile planet earth, its times and tides,
its sunsets and seasons,
Modim anachnu lach.
For the joy of human life,
its wonders and surprises,
its hopes and achievements,
Modim anachnu lach.
For human community,
our common past and future hope,
our oneness transcending all separation,
our capacity to work for peace and justice
in the midst of hostility and oppression,
Modim anachnu lach.
For high hopes and noble causes,
for faith without fanaticism,
for understanding of views not shared,
Modim anachnu lach.
For all who have labored
and suffered for a fairer world,
who have lived so that others might live
in dignity and freedom,
Modim anachnu lach.
For human liberties and sacred rites:
for opportunities to change and grow,
to affirm and choose,
Modim anachnu lach.
Through our Shabbat together, let us commit to bringing about a world where all people may experience rest, peace, equality and justice. American Jewish World Service is dedicated to re-creation; to bringing about a world where core human needs are met so that all may experience rest.
Keep us in the loop! Email events@ajws.org with event-related questions, comments and ideas. And if you'd like to use your event to fundraise for AJWS, visit our fundraising page.