Book clubs are a great way to spark rich discussion about global justice issues. Helpful tools for a successful AJWS-focused book club include a book club checklist, a list of recommended books and a facilitator's guide. The recommended books relate to AJWS's mission to promote human rights and end poverty in the developing world. We hope these books and discussions will not only be thought-provoking, but especially helpful in deepening participants' understanding of AJWS's work.
Book Club Checklist
Pre-Event
Select a book on human rights: A book focused on human rights will allow you to discuss AJWS's work. The list of recommended books provided below contains a wide selection of works—but don't contain yourself to these alone. Trust your own judgment on what piece of literature will speak best to your community.
Spread the word: Alert friends, family and coworkers that you're starting a book club; be sure to mention your expectations. You can also post a flier on the community board at your local bookstore or library and an e-flier on social media. Start collecting email addresses to make continued communication easier. Download a sample invitation and tip guide.
Figure out the best time for everyone to meet: A good time slot will boost attendance.
Pick a convenient location: Do you need chairs? Cushions?
Food: Will you serve a meal or some simple refreshments? Potluck style?
Prepare discussion questions and/or book-related activities: Look at the facilitator's guide below for some ideas and to spark your imagination.
Event
Have a sign-in sheet: It's a great way to ensure that you and your guests stay in touch!
Materials: Don't forget to bring your book! Print and display any AJWS handouts, one-pagers and brochures.
Display pledge cards: It's a subtle way to allow interested individuals to donate. (Request pledge cards by email.)
Take photos and video: Document your great work in action and share the experience on social media. And tag AJWS!
Be an active participant!
Post-Event
Follow up: Send out thank-you letters or emails to those who helped make the event a success, including all who attended!
Keep it going: Send the attendance list to AJWS—we can add your network to our email list and keep them updated on future events and opportunities to learn more about AJWS!
Let us know you did it! Get in touch with AJWS to celebrate your success and share your lessons learned.
Recommended Books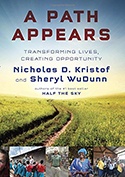 A Path Appears: Transforming Lives, Creating Opportunity
By Nicholas Kristof and Sheryl WuDunn
In their New York Times bestseller Half the Sky, Nicholas Kristof and Sheryl WuDunn shed light on the inequality and oppression facing women and girls around the globe. Their latest book, A Path Appears, focuses on the inspiring work of people who give back to their communities, both at home and abroad. The authors share the stories of global citizens who have made the world a better place—and they outline specific ideas for how you can make a difference, too.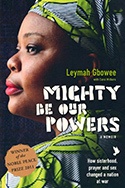 Mighty Be Our Powers
By Leymah Gbowee
As a young woman, Leymah Gbowee was broken by the Liberian civil war, a brutal conflict that shattered her girlhood hopes and dreams and claimed the lives of countless relatives and friends. As a young mother trapped in a nightmare of domestic abuse, she found the courage to turn her bitterness into action, propelled by her realization that it is women who suffer most during conflicts—and that the power of women working together can create an unstoppable force. In 2003, Gbowee helped organize and then led the Liberian Mass Action for Peace, a coalition of Christian and Muslim women who sat in public protest, confronting Liberia's ruthless president and rebel warlords, and even held a sex strike. With an army of women, Gbowee helped lead her nation to peace—and emerged as an international leader who changed history. Mighty Be Our Powers is the gripping chronicle of a journey from hopelessness to empowerment that will touch all who dream of a better world.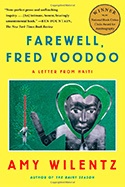 Farewell, Fred Voodoo
By Amy Wilentz
Winner of the National Book Critics Circle Award for Autobiography, this is a brilliant writer's account of a long, painful, ecstatic—and unreciprocated—affair with a country that has long fascinated the world. A foreign correspondent on a simple story becomes, over time and in the pages of this book, a lover of Haiti, pursuing the heart of this beautiful and confounding land into its darkest corners and brightest clearings. Farewell, Fred Voodoo is a journey into the depths of the human soul, as well as a vivid portrayal of the nation's extraordinary people and their uncanny resilience. Haiti has found in Amy Wilentz an author of astonishing wit, sympathy and eloquence.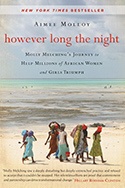 However Long the Night
By Aimee Molloy
Writer and journalist Aimee Molloy shares a personal account of the events that inspired communities throughout Africa to abandon the traditional practice of female genital cutting. The story traces the journey of renowned human rights activist Molly Melching, founder of Tostan, a longtime AJWS grantee that helped communities across the continent bring about this important change. More than a biography, However Long the Night is proof that knowledge of human rights can ignite large-scale social progress.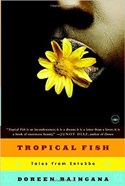 Tropical Fish: Tales from Entebbe
By Doreen Baingana
Doreen Baingana's fiction debut follows a Ugandan girl navigating the uncertain terrain of adolescence. Set mostly in rural Entebbe—with a stop in Los Angeles—Tropical Fish depicts life in Uganda after Idi Amin's brutal dictatorship. As the fictional Mugisha family copes with the political fallout, they also contend with complex, but universal challenges in their personal lives: relationships, disease, betrayal and spirituality.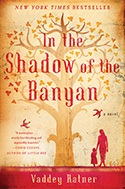 In the Shadow of the Banyan
By Vaddey Ratner
A PEN Hemingway Award finalist, Vaddey Ratner's novel describes a chilling tale of the 1970s Cambodian genocide. Ratner grew up in Cambodia during this time; her fictional account reveals the atrocities committed by the Khmer Rouge regime in the Cambodian killing fields, where an estimated 2 million people lost their lives. Her account demonstrates the remarkable power of storytelling to help people transcend suffering that once seemed unspeakable.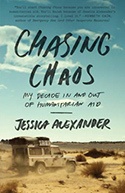 Chasing Chaos: My Decade In and Out of Humanitarian Aid
By Jessica Alexander
Former AJWS staff member Jessica Alexander transports readers to Rwanda and Darfur in this riveting personal narrative from the frontlines of genocide. In some of the most troubled locations in the world, Alexander reflects on her transformation from naïve newcomer to seasoned realist overseeing a camp of 24,000 refugees. She shows us not only the seemingly impossible challenges inherent in human rights work, but also the moments of resilience, recovery and transcendence.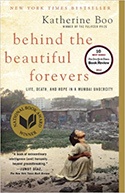 Behind the Beautiful Forevers
By Katherine Boo
Pulitzer Prize winner Katherine Boo tells the dramatic story of families striving toward a better life in Annawadi, a slum settlement in the shadow of luxury hotels in Mumbai, India. With intelligence and humor, Behind the Beautiful Forevers offers deep insight into what connects people in an era of tumultuous change and a growing chasm between rich and poor. The book carries the reader headlong into one of the 21st century's hidden worlds—and into the hearts of families impossible to forget.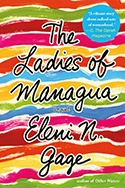 The Ladies of Managua
By Eleni Gage
Lushly evocative of Nicaragua, its tumultuous history and vibrant present, The Ladies of Managua charts the lives of three generations of magnetic women wrestling with the demons of their country's revolutionary past and their hopes and dreams for the future. When Maria, her mother and grandmother come together to bury the patriarch who anchored their family, they are forced to confront their complicated, passionate relationships with each other and with their country.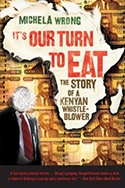 It's Our Turn to Eat
By Michela Wrong
In this nonfiction political thriller, Wrong tells the story of John Githongo, a journalist and activist who becomes Kenya's anti-corruption commissioner for the newly-elected Kibaki government in 2003. When he discovers incriminating evidence of scandals and pervasive graft, Githongo is forced to flee to Great Britain to escape threats on his life. The book offers a compelling analysis of Kenya's history of tribalism and corruption, dating back to British colonialism, and the dramatic story of one man's bravery and the ultimate price he paid.
*Have another book in mind? Please bring it to our attention and we will consider adding it to our list!
How to Host A Book Club Meeting: A Facilitator's Guide
Moderating a Discussion for a Human Rights Book
This facilitator's guide offers suggestions for building a discussion around a book. It includes three options for debriefing the book, as well as a suggestion for closing the discussion that invites participants to pursue further action.
Introduction
Introduce AJWS and the book. Explain how the book connects to the work of AJWS.
Invite participants to consider the following questions. If you would like, write these questions on chart paper to display throughout the session.

What personal values or experiences in your own life motivate you to care about the topic explored in the book?
What new insights did the book inspire? What questions did it raise?
After reading the book, do you feel compelled to take action to address this issue? In what ways could you get involved or speak out?
Discussion
30 minutes
The following are three different options for structuring your de-brief:
Option 1: Conversation Prompts
Read selected passages out loud and discuss them in-depth.
What are the themes of the book?
What resonated most with you about the book?
What about the book did you find challenging?
Does the book inspire you to act? In what ways?
Option 2: Participant-Generated Questions
Ask participants to write down their questions about the book, each on a separate piece of scrap paper. Collect the questions in a basket and randomly select questions to discuss as a group.
Option 3: Triangle, square, circle, [star]
Ask participants to draw a triangle, a square, a circle and a Jewish star [optional] on a piece of paper, leaving room next to each shape to write. Share with participants the following prompts and ask them to write down their responses next to each shape. Give participants 5 to 10 minutes for this personal reflection. [The facilitator notes can help you clarify the prompts for participants if they are unclear.]
Three POINTS I want to remember… [Facilitator note: three key takeaways]
Something that SQUARES with my beliefs… [Facilitator note: something I agree with]
Something still CIRCLING around my head… [Facilitator note: something that confuses me, intrigues me, something I am still pondering]
A JEWISH value or connection to the book…(optional)
Depending on timing and size of the group, open up conversation using one of the following options:
Invite participants to share their reflections with a partner or in a small group.
Invite each person to turn to the person next to him or her to share their reflections for square, triangle and star. Then, bring the group together and invite participants to share questions that are still circling in their heads. Note these questions and discuss them as a full group.
Keep us in the loop! Email events@ajws.org with event-related questions, comments and ideas. And if you'd like to use your event to fundraise for AJWS, visit our fundraising page.