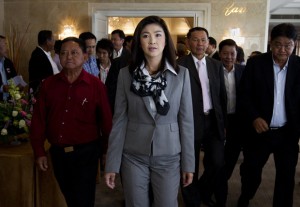 During a recent trip to Thailand, I spoke with many of our partners about their thoughts on the upcoming election. With good reason, people were skeptical that the  results of this election would make much of a difference in their quality of life. Thailand's recent political history that has seen seven prime ministers since the coup that deposed Thaksin Shinawatra. In the last six years, political instability and violence has left Thailand divided and Thais weary of political promises, suspicious of political leaders and somewhat apathetic to the democratic process in general. They have seen the systematic undermining of democracy through political suppression, corruption, coercion and judicial manipulations by their leaders regardless of party affiliation. Politics in Thailand continue to be a struggle for power and influence with very little room to address real concerns and the needs of the people. Thais are so hungry for leadership that can heal the rupture and unite the country.
On July 3rd approximately 70 percent of Thai voters turned out for the second national election in four years. In a landslide victory, Yingluck Shinawatra and the Pheu Thai party ("red shirts") defeated current Prime Minister Abhisit Vejjajiva and the Democratic party. Thais are turning to a political novice, Yingluck — the first woman to be elected Prime Minister of Thailand — to steward the reconciliation process in a country that has seen more than its share of political polarization and instability. Maybe this was a smart political choice on the part of Thai citizens to elect someone who is so new to the public realm. Still, I remain skeptical. Yingluck herself is not a politician, but she is the younger sister of Thaksin Shinawatra, one of Thailand's most divisive political figures.  Though Thaksin lives in Dubai in self-imposed exile, he still has a strong base in the north and northeast.  He was a champion for the rural poor with his populist policies, but he was also known to use heavy force and corrupt dealings to get what he wanted. He had a hand in fueling animosity between Buddhists and Muslims and contributed to a rise in violence when he dismantled the southern security body and replaced it with a brutal and abusive force. He also spurred the protests and riots last spring that left 91 dead and dozens injured.
Even with my skepticism, I hold on to a small shred of hope that Yingluck will move out from under her brother's shadows and bridge the ever-growing divide among her people. I hope that she will understand and appreciate the enormity of her responsibilities as prime minister and build coalitions and allies that will help the country move forward. I hope that she will take steps and implement policies that will truly alleviate poverty, deal with land and natural resources management issues, address conflicts with neighboring countries, create a strong economy for Thailand, and address the needs of the country's youth. But if she remains Thaksin's "clone" (a term Thaksin has used), Yingluck will continue to be a proxy and will miss a huge opportunity to move beyond political rhetoric to effect social change.