As we enter the second winter holiday season in our changed world, I'm thankful for the solace and strength reading has given me. Books have been steady companions throughout the pandemic—sometimes nourishing and comforting me, and sometimes reigniting my lifelong passion for justice. On this holiday of giving thanks, and with Chanukah and other holidays approaching, I'm sharing my reading list with you—gifts of words that I hope you will enjoy and pass on to others.
Here are the books that have lit up my imagination and fueled my passion for social justice this season:
House of Glass, by Hadley Freeman, a Jewish journalist and author who tackles misogyny, anti-Semitism and other forms of hatred head on in her writing, is one of the most powerful books I've read in this past year. Her latest book, a family memoir, is a page-turning investigation into the author's family history—which unfolds like a mystery with unexpected twists and turns. In setting out to investigate the stories of her grandmother and great uncles—who fled pogroms in Eastern Europe only to face the Nazi invasion in France—Hadley explores the tension between acculturation and religious tradition, learning lessons about her own identity. This book offers deep insight into how four siblings from the same family can have radically different reactions to the same circumstances. I will never forget the story of Hadley's late grandmother Sala Glass. I feel as if I got to know her, and my heart still aches for the choice that was made for her in an impossibly difficult situation. I keep wondering…what if another choice had been made?
Caste: The Origins of Our Discontents, by Pulitzer Prize-winning author Isabel Wilkerson, is a searingly honest accounting of how America's racist history has created our unequal present. By connecting the horrors of slavery in the U.S., the caste system in India and the Nazis, Wilkerson reminds us to keep history front and center as we fight for racial justice in America. There is so much that shocks the conscience in Wilkerson's book, but the evidence she has unearthed that the Nazis did extensive research on the methods used to subjugate Blacks in America to design their policies to dehumanize Jews will stay with me forever. This book received a lot of well-deserved attention when it came out last year. If you have not yet had the chance to read or listen to it, I highly recommend adding it to your list.
The Water Defenders: How Ordinary People Saved a Country from Corporate Greed, by Robin Broad and John Cavanagh, is a true David and Goliath story and one I am deeply familiar with because of AJWS's work. A few decades ago, an upswing in gold mining began to poison the water supply in parts of El Salvador, causing dramatic increases in cancer and kidney disease. A group of Salvadoran activists, led by grassroots groups supported by AJWS, banded together to pressure the government to intervene against this deadly pollution. After 11 years of advocacy, court cases and incremental victories, they won, with the government making a landmark decision to ban all metal mining in the country. Broad and Cavanagh tell powerful stories about these grassroots activists fighting corporate greed, even as they faced threats of violence and murder. The fact that they succeeded reinforces my deeply held belief that supporting local grassroots activists does indeed change the world.
Good Girls: An Ordinary Killing, by Sonia Faleiro, shows us in the starkest terms the urgent need to build a more equitable world for women and girls. Faleiro investigates the mysterious deaths of two teenage girls who were found hanging in a tree in Uttar Pradesh, India, that shook their community and the world. Were the girls murdered or did they take their own lives? Were they raped? Were one or both girls in consensual premarital relationships with boys, which their society often views as just as bad, if not worse, than rape? In a culture where many girls' every move is surveilled and controlled by men, how did this happen? Through her work to find out how the two teens died, Faleiro uncovers the troubling way girls are often viewed as vessels for their family's honor or shame. By conducting interviews and extensive research, she indicts the patriarchal culture that is not just a backdrop, but a main character in this case.
Swimming in the Dark, by gifted LBGTQI+ author Tomasz Jedrowski, a thrilling gay coming-of-age love story set in Communist Poland, is dominated by a battle against the status quo. The two main characters, Ludwik and Janusz, fall in love when Ludwik lends Janusz a copy of Giovanni's Room—James Baldwin's classic groundbreaking tale of tale of gay romance and betrayal—which sets the tone for their story of love made impossible in a homophobic society. This powerful novel hit very close to home for me as a gay man whose marriage and ability to live as my true self would be impossible in another country or at another time.
These books—and too many others to list—have given me important new perspectives and allowed me to travel the world safely throughout this most difficult year. I hope that this list inspires you.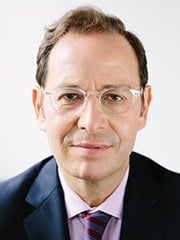 Robert Bank is President and CEO of American Jewish World Service, the leading Jewish organization working to promote human rights in Africa, Asia, Latin America and the Caribbean.. Robert has spent his career championing human rights as an attorney, activist and leader. He joined AJWS as Executive Vice President in 2009 and previously served in New York's municipal government and in the leadership of GMHC—one of the world's leading organizations combatting HIV/AIDS. Robert has been honored with GMHC's Lifetime Achievement Award and the Partners in Justice Award from AVODAH: The Jewish Service Corps.