This week, I'm heading to the border. I'm going because this summer I've felt devastated by news of the barbaric treatment of immigrants and refugees who have crossed into our country, as I'm sure you have as well. Each painful headline has hit me hard. Day after day, I have read about children separated from their parents and interned in detention centers. I have mourned our government's broken promises to reunite shattered families, and have been horrified by the rampant sexual abuse of adults and minors by detention camp guards. My heart breaks for children with psychological trauma so deep; they may carry these wounds with them for life. It is truly shattering to witness our own government act so cruelly toward people desperately fleeing violence and crushing poverty in their home countries.
As I hear these stories, I find it impossible not to wonder: What if my own grandparents had been treated as criminals when they arrived in South Africa as Jewish refugees from Lithuania, fleeing violent pogroms and poverty? What would my life look like if they had been turned away at the border, or arrested and put in a camp? Or what if I had been refused a visa and barred from the United States when I sought to emigrate myself as a teenager? How would my own story have been irrevocably changed?
These questions are deeply on my mind as I prepare to travel next week from my home in New York to Mexico—and then cross the border back into the U.S. on foot. For me, this journey will not be a choice between life and death—as it was for my ancestors and for so many migrants from Central America and Mexico today. Rather, I will be going in a heartfelt act of solidarity with those who are forced to flee. I'll be traveling with our sister organizations in the Jewish community, including the Anti-Defamation League, HIAS and a dozen more, that are doing extraordinary work every day to care for the refugees in our midst—working to reunite families, ensure that migrants and asylum seekers are treated with dignity and respect, and reform immigration policy.
While my colleagues here in the U.S. are doing critical work to address this crisis from our side of the border, I am deeply gratified that AJWS is doing its part to help from the other side. Our grantees in El Salvador, Guatemala and Mexico are seeking to address the root causes that are sending people fleeing north in the first place. They are examining and responding to the complex web of forces so devastating that thousands of people are willing to leave their homes and risk everything in order to escape.
In her seminal poem, Home, which has become a rallying cry for the global refugee movement, the Somali-British poet Warsan Shire brilliantly writes, "no one leaves home unless / home is the mouth of a shark / you only run for the border / when you see the whole city running as well." For most Central American migrants and asylum seekers, that shark is crushing government repression and land grabs, or it is rampant gang and cartel violence, or it is crippling economic insecurity that makes it nearly impossible to put food on the table, or it is domestic violence that leaves women and children fearing for their lives on a daily basis. Our neighbors from the south are fleeing persecution and destitution—they are fleeing for survival.
As Jews and Americans, we must welcome those who flee with open arms when they arrive; and it is also vital to work on the other end of the pipeline to address the core issues driving them to flee—helping them to tackle the poverty, bigotry, inequality and pervasive violence that stalk their communities like vicious predators. With our partners in Central America and Mexico, AJWS is intent on empowering activists and human rights defenders to transform their countries so that they are not only habitable, but thriving environments where human rights can flourish and where people can imagine a bright future for themselves and their families.
Slowly but surely, the organizations we support in Central America and Mexico are transforming their societies from the inside out. They are fighting tooth and nail to address the inequities in their countries—in order to make their homes places that no one will be forced to flee.
"no one leaves home unless
home is the mouth of a shark
you only run for the border
when you see the whole city running as well."
In Mexico, our southern neighbor, an epidemic of "disappearances" has been raging for the past 15 years. Individuals are being abducted—often to be tortured and killed—by organized crime cartels, police and military, which the government has not held accountable. Their families do not know where they are, the condition they are being held in or even whether they are dead or alive. Over the last decade alone, over 30,000 people have been reported "disappeared" in Mexico. In the state of Veracruz, where these disappearances are increasingly pervasive, AJWS grantee SERAPAZ is supporting families to seek justice. They are bringing groups of families together to advocate collectively for the government to crack down on disappearances and investigate these heinous crimes, and they are seeking to combat the impunity granted to criminals and government officials alike.
In addition, SERAPAZ is organizing communities to try to overcome Mexico's ever-intensifying environment of state-sanctioned violence against the people. They facilitate conversations with communities affected by violence, teaching them to mediate conflict. They help grassroots peace-building initiatives to flourish and build networks of activists working together to bring about peace, justice and a safer, more democratic society.
Violence and forced disappearances have similarly devastated communities in Guatemala—dating back to a brutal armed conflict that raged from 1960–1996, where the military tortured and disappeared thousands of activists and citizens. The vast majority of these crimes have gone uninvestigated and unpunished, but a recent landmark trial achieved a major victory for human rights nearly 40 years in the making:
AJWS grantee UDEFEGUA was instrumental in the case—which sought justice for an atrocity that occurred in 1981. In September of '81, twenty-one-year-old political activist Emma Molina Theissen was arrested and taken to a secret military base, where she was raped and tortured for nine days. She managed to escape, but the military retaliated by kidnapping her 14-year-old brother, Marco Antonio, whose whereabouts are still unknown today. The Molina Theissen family—with protection from UDEFEGUA—took the military to court. And this past May, Guatemala's High Court found four high-level military officials guilty of forced disappearance, detention and rape, sentencing them to 25 and 33 years in prison for these crimes against humanity. This was the first time senior officials have ever been brought to justice for such atrocities in Guatemala, and the case signals a shift in the culture of impunity that has destroyed so many lives.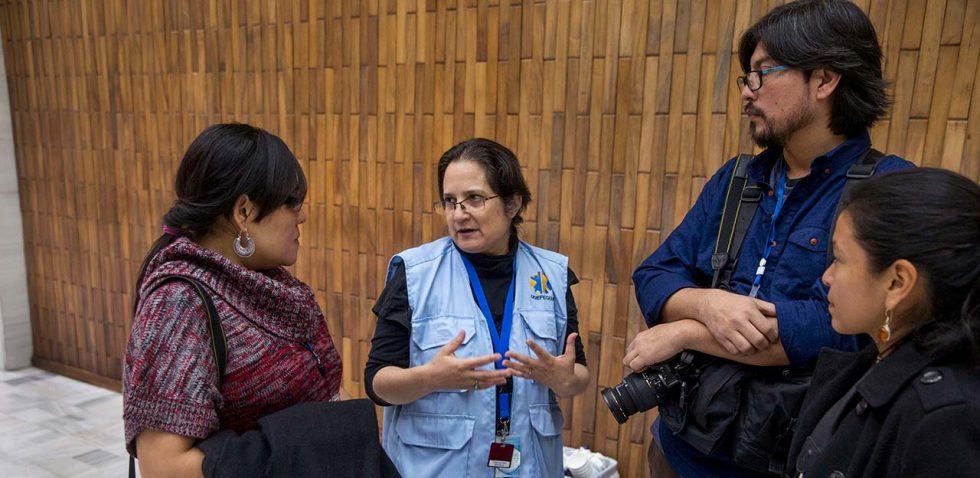 This victory is just one part of a broad movement for democracy and human rights in Guatemala. UDEFEGUA and our other grantees are fighting impunity to create a more just and inclusive society. They are providing legal representation to human rights activists jailed or tortured for persevering in their courageous work. They're establishing independent media outlets to elevate the voices of human rights defenders, documenting human rights abuses and more.
In neighboring El Salvador, our partners are working tirelessly to combat the systemic injustice that sends thousands of people fleeing for the U.S. border each year. For instance, a group of AJWS grantees, including Unidad Ecológica Salvadoreña (UNES), is currently leading the fight to ensure that poor communities have access to the water they need for survival. They're up against corporations and government officials that are attempting to privatize water, a move that would cut off access to this vital resource for many of the most vulnerable people in the country. Our grantees know that without water, there's no life, and so they've organized nationwide protests and non-violent actions throughout the country to raise awareness about this potential disaster and bring the government to the negotiating table.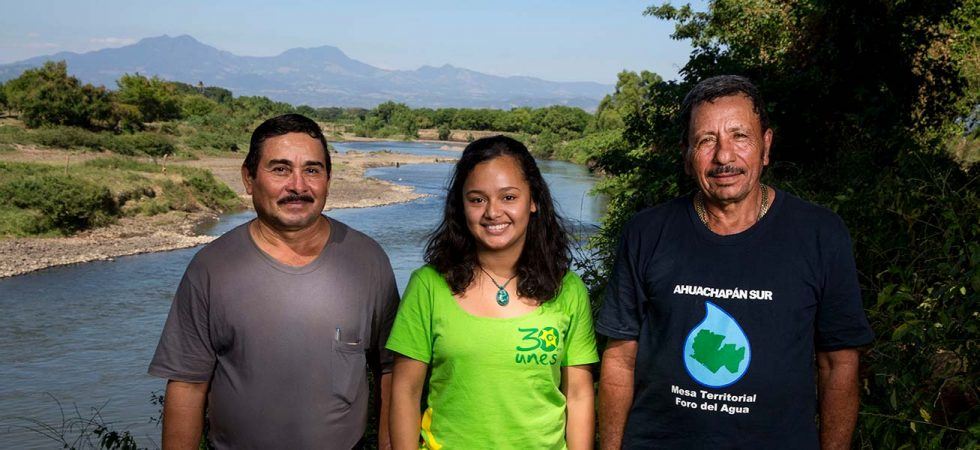 On another front, our grantees are fighting the deadly prejudice and violence levied against LGBTI people in El Salvador, which makes life untenable for members of this targeted group. Our grantees are conducting trainings to educate Salvadorans about LGBTI issues and providing much-needed healthcare to trans men and women. They are visiting incarcerated trans women—who are by law placed in men's prisons, where they are abused by prisoners and guards alike—to give them a lifeline of compassion and help them advocate for safe and dignified treatment.
There are many complex reasons why people make the difficult choice to leave their lives behind and cross into the United States. What is crystal clear is that caring for the refugees in our midst is our responsibility—as Jews, Americans and human beings. After all, many of our families were refugees not so long ago, and our people's ancient history began with a story of migration from oppression to freedom. It is also imperative that we reach across the border: By supporting grassroots groups and movements who are working to change their countries for the better, we are addressing the issues that force people to become refugees in the first place.
I could not be prouder to stand with other American Jews at the border to welcome refugees and immigrants, as well as to support our brave partners in Central America. With our support and solidarity and their courage, skill and perseverance, I know that they can transform their countries from places of untenable danger into welcoming communities in which to live and thrive.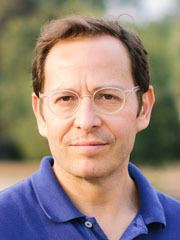 Robert Bank is President and CEO of American Jewish World Service, the leading Jewish organization working to promote human rights in the developing world. Robert has spent his career championing human rights as an attorney, activist and leader. He joined AJWS as Executive Vice President in 2009 and previously served in New York's municipal government and in the leadership of GMHC—one of the world's leading organizations combatting HIV/AIDS. Robert has been honored with GMHC's Lifetime Achievement Award and the Partners in Justice Award from AVODAH: The Jewish Service Corps.